Impact
Before Evita, Madonna, & Oprah, there was the gringa matadora Conchita Cintrón, affectionately known by legions of fans as the Diosa de Oro (Golden Blond Goddess) who just missed sticking her first bull at age 13 when most girls are learning French & attending debutante balls. (No worries, the 2nd one was a bulls-eye & she finished off 750 more before retiring at a youthful 27.) Conchita was all
duende
(heart 'n soul + more) & no bull... whatsoever. Her flair in the
corrida
(bullring) embodies the metaphor of a woman controlling a men's world in which she competed without losing a dash of femininity. Her graceful moves meant dancing with the bulls. Yet her fearlessness proved she was the woman with
cajones
; like the incident when gored, fainted, & came-to in the infirmary, she refused surgery in order to immediately return to the ring where with one quick thrust or
estocada
– the killer blow in bullfighting terminology - she dispatched the bull... & then collapsed herself. The stadium went crazzzzzzzzzzy.
Conchita saw "no importance in living beyond the fight"... precisely where this bar mostly resides – in leisurely retirement to aptly mark Felchlin's centennial anniversary. 'Concha' stands for 'conching' (an extended & often vigorous churning of the cocoa liquor) but could just as well mean 'li'l conchita' (sorry if that almost sounds Spanish for castration). A chocolate that captures her delicacy & solemnity but misses her verve & nerve. Suffers from early onset of Ballzheimer's.
Still, composed of 3 super-strains (Bení, Esmeraldas, & Maracaibo), it's a power blend you don't have to do, but ya just got to.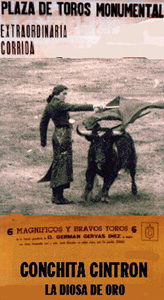 | | |
| --- | --- |
| Color: | browner than its |
| Surface: | Bolivia; Venezuela; Ecuador |
| Temper: | flat |
| Snap: | chinks clean; fine edge, occasional airpocket |
Aroma 8.3 / 10
none of
Crudo's
headbanging nose, more focused cocoa & a repeat of its Flavor though... just softer / warmer nuts, greater browned / caramelized head notes -> vegetal action (dandelion / sorel join tobac leaf) in the middle -> base notes: compost manure & dooky rubber ' n tar too -> macadamia butter 'n bread on the rubdown -> ultimately airs out loganberry
Mouthfeel 13.4 / 15
| | |
| --- | --- |
| Texture: | smoother than teledildonics |
| Melt: | so even that the puckering feels good & welcome |
Flavor 43.4 / 50
supple chocolate -> fleeting blackberry then infuses the length making mere apparitions out of wood tones & potted mushrooms in soil -> simple cocoa -> black tea whose fighting tannins get licked in cacáo butter -> macadamia oil further assuages that + mounting astringency -> vanilla cocoa
Quality 16.9 / 20
Overly civilized, steadfast... & butter-rich to keep bitterness & astringency in check, but hollows-out & eviscerates the guts some, bordering on bland.
48 hour conche sounds longer than it actually is given the longitudinal open-air unit employed, leaving quite a few catechins intact (if well submerged by oxalic acid &, again, cacáo fat), driving off the spices while focusing on the chocolate fruit, converting that wild plum package in the relatively unconched
Crudo
to a blackberry frame here. More than just an exposé on conching (tempting & revealing as that would've been), Felchin may have re-calibrated other factors to round the profile & homogenize the structure (for instance, in the staging of ingredients &/or roasting levels?) to produce quite a whole other artifact. Balance of the Flavor remains tilted primarily on the Bení, & considering the characteristics of Esmeraldas & Maracaibo (the latter delivering most of the CQ or Chocolate Quotient), both stand-up to the Amazon Bení strain as foils, & on their own they're so well harmonized they practically cancel each other out to a degree, opening up that chasm, an ever present danger with too sumptuous a blend, sporting pedigrees that hyper-align into a formulation lacking acuity that amounts to pouring cream into crème fraïche onto butter... or silk with lace, biege-on-tan, & cellos + basses... to deplete this blend's stamina, sacrificing depth & length. If Felchlin really wants to stick to the blueprint, these beans are so benign they could easily tolerate a higher cacáo-content (witness De Vries & Caoni). As is, a flawed misuse.
With these 3 amigos, however, it's difficult to go completely wrong. Concha's a perennially kind & relaxed chocolate. The question is: did Felchlin - 100 years in the making - get it entirely right?