the ultra-guide on a journey of premium chocolate
For most, chocolate is candy. This is changing, in a retro-evolution to its roots of an intense, pure-flavor powerhouse. the C-spot™ Chocolate Atlas lets you explore & learn all about quality chocolate. Have you ever wondered…
What exactly is chocolate?
Where does divine chocolate – "the food of the gods"  – come from? The tree Theobroma cacao of course.
What is the difference between cacao and cocoa?
The Chocolate Atlas is also your ultimate bar-hopping guide to navigating the complex chocolate array of incredible chocolate bars across the entire spectrum – from 0 to 100 / mild to wild / white to jet-brown – that cuts to the quick & gets you up to speed with ease on fine chocolate origins, cacao varietals, the history of chocolate, chocolate book reviews & so much more.
On every page in the Atlas you find chocolate that we have hand-picked which best represents that specific type, growing region, brand, etc.
Be the chocolate expert: just pick an entry point in the Chocolate Atlas & you're on your way. It's organized as a graduated gourmet chocolate tasting course so the aim of all this is never lost. Begin at entry level or select any entry point that suits your chocolate desire & ramp up as steep as you want to go. Either way gives you the critical basics to know if you're new to the chocosphere as well as the advanced material if you're more experienced. Designed to offer you both the simple gloss (if that's all you're interested in) or to bite into more challenging deep chocolate layers that trade on insider information, technical detail, & in-depth analysis.
"There's hardly a cooler thing than cacáo." Don Beto, ah k'in (godfather), Ch' orti' Mayan, Quetzaltepeque Guatemala; on sacred symbolism & profane properties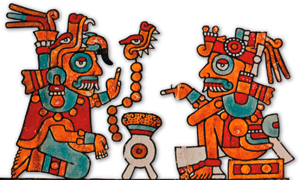 "Cacao is intricately intertwined with history: kings & queens were buried with it; wars were fought for it; sculptures of stone & ceramic were devoted to it; & cacao marked marriages, births, deaths, supplications to the gods, & sacrifices… It's not simply a "food"; it's also a tool for marking the passage of important life events & ensuring a healthy existence.  At one time, the growth of cacao in the shaded valleys & coastal plains of Mesoamerica helped to preserve the environment & protected against deforestation." Cameron McNeil, Chocolate in Mesoamerica: A Cultural History of Cacao