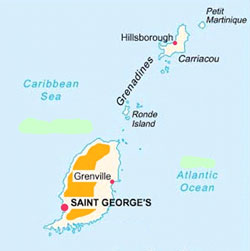 FLAVOR PROFILE: Volcanic; compensates for lack of mass & structure with bold tone & warm acidity that crosses over Earthen (coffee, cocoa, woods like balsam, white cedar / pitch pine, sometimes eucalyptus) & darker shades of brown Fruit (fig, raisin, prune) with occasional whites (lemon / lime, quince, white grape / currant, sapote, banana), + Spices & Herbs (nutmeg, naturally, + cinnamon, clove, ginger, pimento, & vanilla).
CHARACTERISTICS: admixture of virtually pure Amazon Calabacillo via probably Martinique, & a Criollo type of Venezuelan origin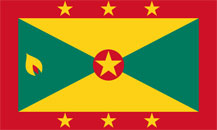 The "Spice Isle" displaying nutmeg on its flag was once home to the Caribs (from whom we derive 'Caribbean') who leapt off cliffs to their deaths rather than face French colonial purges that settled the island for sugar cane production.
Today very little French influence resides among the people of mainly African descent.
Slave rebellions, hurricanes & a red ant plague almost emptied the island by 1800. A half-century later it sprung back when former slaves, in an experience similar to nearby St. Lucia, revived cacáo cultivation with a ten-fold increase.
Grown on mountainous terrain of volcanic-rich soil, distinct & unique, but prone to cacáo's worst friend in the Caribbean islands – those hurricanes. After an eerie stretch of calm winds & waters, both Ivan (2004) & Emily (2005) hit hard, causing major crop damage, though its trees have recovered with remarkable speed.