FLAVOR PROFILE: Red & Black: strawberries, blueberries, currants, plums; licorice, molasses, cocoa treacle; sharp & intense with pervasive, heavy reverberating finish
CHARACTERISTICS: multi-variegated fruit pods, some colored red-brick brown filled with relatively small beans of lower yield that belie this muscular powerhouse
One taste is all it takes – among the rare & most complex.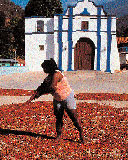 The area of Chuao is considered the Romanee-Conti of cacáo. True single-origin, grown on 740 acres around a small village in the northern coastal valley of Venezuela – accessible only by boat or foot. Twice a year the harvest is sun-dried & on designated days – weather-permitting – right on the village church's parvis called the Plaza de Secado.
Technically a cooperative of farmers bearing the Chuao Impresa Campesina, among their members are numbered descendents of slaves who still tend the groves today. They inherited the plantation after a long saga beginning with landholder Catalina Liendo's death in 1669 who bequeathed it to the Franciscan Order. It subsequently fell into the hands of the caudillo Antonio Guzmán Blanco, then seized by Venezuelan strongman / dictator Vincente Gómez for his personal empire before the State finally entrusted it to its people.
Tales of pure Criollo turn out to be pure myth; hybrids & Amazon-Amelonado from Bahia Brazil are in the mix, plus dozens of others, including in the designated 'upper part of the estate'. Notable nonetheless for being untouched by the ravages of the mortal fungus Ceratocystis fimbriata (aka Mal de machete or cacáo wilt).
And the secret of its success: The valley lies far from being an ideal place for cacáo cultivation – which likes humid rain forests. Chuao's climate by contrast experiences low humidity. To compensate, villagers irrigate their trees a couple times a year by diverting the river which runs right thru the estate, whose pristine headwaters flow down from the surrounding mountains behind the valley. Sediments from the river fertilize the cacáo, bathing them in rich minerals which impart that Chuao difference.