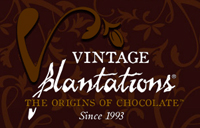 Founded:
1993
Headquarters:
Newark, NJ
Style:
Rustic
Characteristics:
rough, rugged, & unpredictable
Ferment:
often short & youthful
Roast:
erratic
Conche:
the better aspect of its processing
Impact:
Advertises ethical chocolate working in conjunction with Rainforest Alliance in an uphill battle to protect heirloom cacáo, practice sustainable farming / forest conservation, & promote fair pricing for growers. How much is actually achieved remains suspect, opening it to charges of Rainforest 'Dalliance".Vinyage Plantation once operated the University of Chocolate — a part outdoor cacáo seminar / part herbal-medicine journey thru the Amazon Rainforest. Several of its graduates eventually formed the core of the New American micro-processors in craft chocolate.

Apparent over the course of Plantations' 2 decades worth of vintages is the degree to which severe hybridization among traditional Nacional tree stands (essentially Ecuador's 'criollo') has been infiltrated by clonal CCN-51 & other hybrids widely planted there. The net result is that the glorious Ecuador chocolates of yore – highlighted by jasmine, geranium, & blackberry accents – are in danger of becoming a vanishing memory, replaced by subclones & ever-greater marketing hype surrounding 'Arriba'. Just another casualty of the modern cocoa industry.

As such, the company operates in flux as it moves away from an exclusively Ecuadorian-based cocoa to broaden its reach to other origins (nearby Peru &, farther afield, Central America) while maintaining an ethical approach.

Also of note: Vintage Plantations produced one of the few truly vertical-tasting catalogs in all of chocolate, spanning the range… from Milk to Semi-Dark & Dark, all the way up to Brut… of a single-origin estate – Rancho San Jacintho, Ecuador (another vertical catalog from the same country of source was Coppeneur's Iara Estate portfolio).