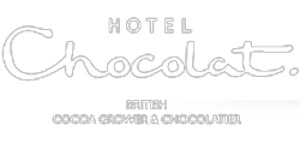 Founded:
2003
Headquarters:
London, UK
Style:
somewhat sliding…
Characteristics:
… depending on which 3rd party manufactures the finished product
Ferment:
goes for the fruit
Roast:
generally robust
Conche:
extended
Impact:
Creative marketing aligned with what the label terms 'ethical engagement'.

Floated an innovative bond initiative — both as a financial instrument & a social tie — in which customers hold a stake in the venture that supports, in Hotel Chocolat's (HC) case, a quasi-vertically-integrated chocolate… near but not quite in league with a small but growing cadre of omsbudsmen around the globe who practice Bud-to-Bud™ (cacáo tree bud to human taste buds) by planting, producing, processing & packaging the entire enterprise on-site, similar to the vintner model.

To complete the virtuous circle HC established a chocolate destination on St. Lucia island in the West Indies. There it lives up to its name & operate a hotel based on eco / agrotourism. Visitors lodge, dine &, if they so choose, work the Rabot Cacao Estate perched high up between the Piton mountains.
Crown Jewels