Impact
For better or worse, Fiji historically dined-out on cannibalism during a period referred to locally as
na gauna ni tevoro
(time of the devil).
The ferocity of this lifestyle deterred European sailors from going anywhere near its waters lest they get boiled into a band of skulls, giving it the name 'Cannibal Isles' (well, it was one way, however temporarily, to keep the colonists at bay).
Recently the islands have been rocked by a lot of coup d'états... all at odds with the locals' current reputation as amongst the friendliest & most relaxed people in the world.
This Cundeamor cacáo (named after a vine-like plant for its bottleneck shape belonging to
Cucurbitaceae
, related to the Chinese bitter melon) lures with the floral corals of a mermaid, then devours with the force of a man-eater, before assuming its final tranquility.
Navigate at your own risk.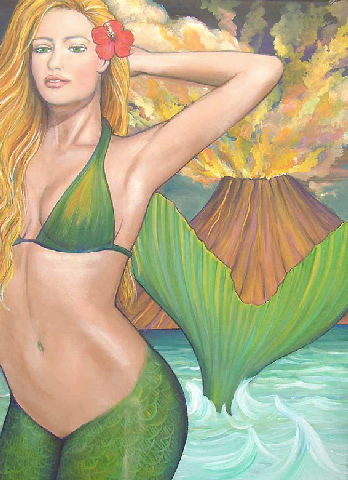 Amore among the Cundeamor: hmmm, if ya wanna taste, come in a little closer (by Laura Mercer)
| | |
| --- | --- |
| Color: | orange-brown husks; inside cotyledons really brown (deeper than they are dark) |
| Surface: | demi-plump / semi-large |
| Temper: | husks form tough sheath around clearly striated cotyledons of classic cerebral cortex "brown matter"; superbly dried (only rare incidental crusting); vinyl sheen on the beans |
| Snap: | crackle on a skillet |
Aroma 8.6 / 10
mostly marine: soft coral, bêche-de-mer (sea cucumber), a little bitumen & ocean breeze punctuated by distinct coriander -> almond oil -> dry cocoa wind w/ slight soursop twang
Mouthfeel 11.4 / 15
| | |
| --- | --- |
| Texture: | dry meal |
| Melt: | very little butter cuts between the gruel |
Flavor 40.2 / 50
cocoa loco -> coral & floral -> sweet breeze of white champaca (Michelia alba aka white sandalwood) -> kumato (brown tomato) -> chicle gum -> minor bitter 'n sour exchange turns ferociously bitter on cannibal tomato, the sledge that hammers away on kava, then pandanus to biting betel nut -> clears bitter almond & walnut -> gradually returns w/ olive leaf to some of the early tags that made this a near dime spot
Quality 15.7 / 20
Archetypal two-faced lover, the sort of switch-plate played by the most fab screen face of all - Greta Garbo (for all his Marilyn Monroes, just ask Any Warhol) – in the last film of her career.
Sweet if highly subliminal harmonics in the opening frames prove enduring enough to offer a respite & some melioration from an embittered mid-palate when they rebound at the very end in a progression that conforms to Mandelbrot's calculus that chaos is not completely chaotic.
A longer ferment (these undergoing just a few days) could've evened up the profile, allowing the pulp to soften the phenols via greater acidic conversion. Though mercurial, this bean displays solid backbone & grace. It also projects what
Adi's other varietal - the Amazon
– mysteriously misses: high CQ (Chocolate Quotient or baseline cocoa flavor free of any nuances).
Together they should provide the germinal seeds for a ripe estate-blend.
ING:
cocoa bean
Reviewed Summer 2010