Impact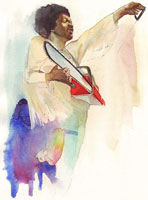 Jeff Shepherd of Lillie Belle Chocolate lives in the the shadow of Jimi Hendrix's birthplace (now the musical experience called Seattle) & the Northern Lights show (aka The Aurora Borealis).
He can therefore be forgiven for excusing himself while he kisses the sky. More than just in his brain, he no doubt probably dropped purple microdots on his tongue, as in this bar -- his signature master
b(l)end
.
Appearance 4.3 / 5
no sissy waif-slate but a thick 77g heavyweight
| | |
| --- | --- |
| Color: | painted what else? |
| Surface: | spangled & spattered |
| Temper: | just a little blurry |
| Snap: | unmistakable power chord |
Aroma 6.8 / 10
some electric blues (plums / currants / berries) but mostly a CSNY acoustic set of Wooden Ships
Mouthfeel 10.9 / 15
| | |
| --- | --- |
| Texture: | dry 'n tough |
| Melt: | melts up in a delayed FX, then steps on the wah-wah pedal to liquify |
Flavor 38.1 / 50
coffee pound cake flanged with those purple fruits -> distorts to a granadilla wash which stretches the flavor to peak on its mounting acid -> plunges into a tamarind-tar meltdown that lasts until tomorrow, as in the end of time... multiple wooden flashbacks from the Aromatics but with almonds now -> hits bottom in the recovery movement on a mudslide (gives it the late night treatment / after-hours vibrato overhang banger)
Quality 14.7 / 20
Hooks up
Venzy Rio Caribe
to
Lillie Belle's Dark Star bar
(a hodge-pod of
Dominican cacáos
lumped together under the trade-name
La Red
). As customary with Lillie Belle's rustic styling, integration falls short of seamless & the blueprint for this blend seems less than ideal.
On the upside, Rio Caribe clarifies & sustains the fruit components, as well as provides added body, plus some nut inflections.
On the downside, together La Red & Rio Caribe reinforce each other's lower end, creating a ponderous bottom weight that overshoots chocolate flavor into coffee territory, & then by the final stage some muddy swamp.
A dirty drug of sorts this Purple Haze from Lillie Belle that'll still have people singing "whatever it is, that girl, put a spell on me".
ING:
cocoa mass, sugar
Reviewed November 1, 2011