Impact
Chocolate logs... to recall
Teponaztli
or Mesoamerican slit drums made out of tree-trunks. Once hollowed out, they were tuned harmoniously to the resonant pitch of the drum cavity itself, then adorned with carvings & ornamentation.
These "bars" are likewise elaborated with additives that hum & rhyme well together, making
Diego
a
teponāzoāni
(the one who plays the drum).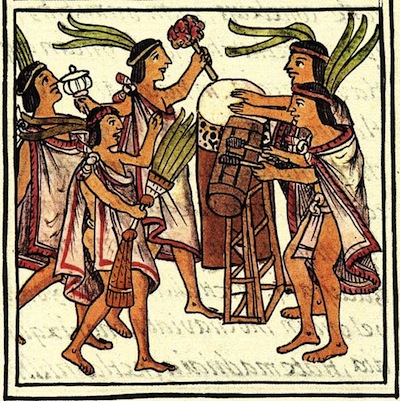 Florentine Codex, 15th century
| | |
| --- | --- |
| Color: | rolled cigar, or Tootsie Roll®-style tubular mould |
| Surface: | striated grain |
| Temper: | mottled matte |
| Snap: | none to speak of |
Aroma 7.6 / 10
plain & grounded cocoa base
Earthen
funk
spice additives
Mouthfeel 11.3 / 15
| | |
| --- | --- |
| Texture: | bits 'n grit |
| Melt: | quik |
Flavor 43.9 / 50
Puro-Dark
80% cacáo-content
coffee-fudge -> rum -> morello cherry -> spice bread
INGREDIENTS:
cocoa mass, unrefined sugar, orange juice
Cacao Nib
80% cacáo-content
continues the fudge action of
Puro-Dark
(above), less coffee though & more mocha -> mutes the alcohol FXs for a candy bomb of flavors starting with Hubba Bubba
®
fruit crush, then puffing up cotton candy -> settles back malt bark;
Nibs
edge this over toward greater chocolate foundation, reducing the sweet pop -- marginally
INGREDIENTS:
cocoa mass, unrefined sugar, orange juice
Cardamomo
75% cacáo-content
blazing eucalyptus-laden cardamom -> bubble gum back -> choc-peanut butter cup
INGREDIENTS:
cocoa mass, unrefined sugar, evaporated milk, orange juice
Café
75% cacáo-content
false start on milked cocoa & then snapping coffee butts in, crowds the palate -> a lengthening tide of orange rises to meet it -> sweet mocha-latte stemwinder
Fine confluence of flavors that amplifies this cocoa's already intrinsic coffee tones with added coffee; really well-married
INGREDIENTS:
cocoa mass, unrefined sugar, orange juice, evaporated milk, coffee beans
Quality 15.7 / 20
The new era craft chocolate prides itself for being "all about the bean", putting the balance of flavor squarely on the
cacáo
/ cocoa, catalyzed by sugar only.
Diego
is all about everything else that goes along with that.
Puro / Pure? Only in the best adulterated sense.
The unrefined cane sugar (panela) bolsters this humble chocolate which receives additional preening via orange juice expertly splashed into the flavor matrix.
A connivance if shy of a confection.
And a damn nice surprise.
Reviewed November 23, 2015