PANGOA:
Seeds (2014 + 2015 Harvest)
Bars (70%; 70%+Nibs; 70%+Sal de Cáhuil)
by
Óbolo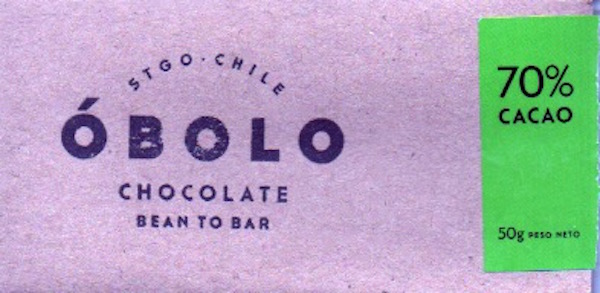 Impact
Making chocolate from scratch in this day & age rises to the level of the
Q'eshwachaka
(Inca Rope bridges). Tedious, time-consuming, anachronistic, quaint.
For example, even though a modern bridge spans the Apurimac River nearby, locals keep the ancient tradition & skills alive by fashioning a new one every year (see it
here
).
Chile's Mark Gerrits, the force behind
Óbolo
, crosses the border into
Peru
to source the cocoa utilized in these bars & then grinds them back home into chocolate, making him the first craft
barsmith
in that country. He may currently be alone in this endeavor when it comes to Chilean chocolate but with flavor like this he shouldn't be lonely because people will be weaving a path to his door just as surely as they venture the bridge of Q'eswachaka.
Color:
Seeds: brown just on this side of black
Bars: brown tinkled pink
Surface:
Seeds 2014 Harvest: smaller than average; semi plump
Seeds 2015 Harvest: ditto with more irregulars
Bars: standard issue
Temper:
Seeds: n/a
Bars: clouded
Snap:
Seeds: n/a
Bars: electronic
Aroma 7.9 / 10
Seeds 2014 Harvest
light acetic swipe + deciduous wood

Seeds 2015 Harvest
same but pungent

Bar (70%; 70%+Nibs; 70% con Sal de Cáhuil)
wood, dry soil, stones / cinder blocks & microbiota... all brew up some ginger beer
salted bar conveys oceanic submarine currents
Mouthfeel 12.1 / 15
| | |
| --- | --- |
| Texture: | Seeds: yielding / forgiving |
| Melt: | Bars: endothermic |
Flavor 44.8 / 50
Seeds 2014 Harvest
beautiful banana -> very cooling minerals lead to trace vegetal spray topped off by super-subtle mint -> woody backdoor exit
Seeds 2015 Harvest
banana-cocoa backed in pitomba -> vegetable chips -> super savory including a vinaigrette dressing -> approaches tartar sauce -> lime twist
70%
Lot #61
sweet cream seam to mild cocoa -> rising white fruit (cocoplum / pitomba) countered by chicory - licorice (nice juxtapose) -> pink camu-camu / black carob (re: algarrobina)... quite rare -> beautiful balsam of Peru -> cocoas out
Unique. Both sweet & savor / dark & light in contrast & unison.
INGREDIENTS:
cocoa mass, sugar
70%+Nibs
Lot #66
an inexplicable
sweeter
opening than the
70%
(without
Nibs
, above), then conforms to expectations of an overall darker countenance while still retaining fine acidity... if anything, Nibs furnish truer contrast lacking the chicory - licorice tags... the differential explained by the differing vintages? (no; see below)
INGREDIENTS:
cocoa mass, sugar, Nibs
70% con Sal de Cáhuil
Lot #60
salt plunges the profile into deeper subterranean folds, more core chocolate fathoms... holds off the tang for two-thirds of the length whence acids bubble up in light froths
INGREDIENTS:
cocoa mass, sugar, sea salt
Quality 15.6 / 20
Mark Gerrits, the ever-conscientious steward of
Óbolo
, comes to chocolate from the non-profit world, specifically the Nature Conservancy. Direct-sourcing cacáo therefore forms an extension of his previous career. Drafting his cocoa out of Pangoa,
Peru
courtesy of a 300 member co-op whose ranks tend to an agroforestry model -- including coffee at higher altitudes with cocoa, bananas & plantain at the lower elevation -- all in keeping within the bounds of the watershed's limits, both geographically &, moreover, in terms of volume / scale of extraction / exploitation.
The light environmental footprint then gets reflected in a light roast, the 2 seeds differing in their expressed levels, the
2015
seeds more dynamic, largely on account of the differing vintages rather than the in-house processing. The bars to date only utilize the 2014 harvest. Ancillaries a bit amiss but flavor makes up for it.
Soon he'll ready 2015's fruits & no doubt produce evermore generous gastronomics to suit his company name:
Óbolo
meaning 'gift' (which inheres his core values of giving back), derived from the Greek word for 'coin'. Given cacao's history they both apply & such an apt name augurs well for their fortunes.
At ~$5 a bar, consider it a bargain if not quite alms.
Reviewed March 24, 2016