Impact
In 2001, Vestri established its own cacáo estate right along the coast of Bonao, D.R. because it understands if you want to swim with the sharks, you gotta to be one of the badddest sharks in the water.
A feral hammerhead - never flinches... just one happy fast beast yet tame enough to grab a dorsal fin & dive the fathoms.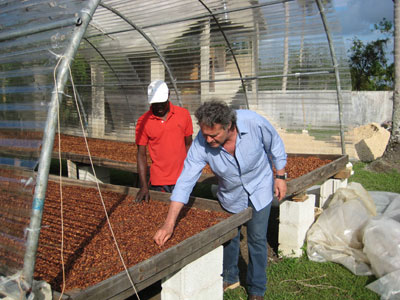 Danielo Vestri & Tony at Vista Alegre
Appearance 5 / 5
beautifully eye-commanding sight
| | |
| --- | --- |
| Color: | sherry brown speckled w/ orange face-glitter for overall titian cosmetic |
| Surface: | if looks could kill we'd all be dead b/c this is drop-dead gorgeous; even whorls outback have party-dress flounce |
| Temper: | photo-quality matte |
| Snap: | Dylan: "she breaks just like a little girl" but w/ a heavy basso profondo at the core, & the cleave a bit on the wild jagged-little-pill side ala Alanis Morissette |
Aroma 8.6 / 10
bewildering: milk chocolate, incl a drop of caramel, set against cabirma & mango woods; mislabeled? ... that's how stunning it is (vanilla apparently keying the aromatics); aerates tobacco leaf
Mouthfeel 12.1 / 15
| | |
| --- | --- |
| Texture: | slender w/ slight grip (astringent) |
| Melt: | relatively quick & quiet |
Flavor 46.4 / 50
swings the hammer right off on a chocolate BANG –> rapid green olive to green mango skin... goes right inside to the fruit -> transitions dried apricot, singing it loud & proud before a phase-shift to toasted cereal w/ banana (basically chucula – cocoa, plantain, cornmeal) -> smoked woods pick it up interscoping that banana + residual apricot now turned blossom-like sapote along an underlying undying black olive furnishing depth thru bitter restraint (superb simultaneous contrast) -> every flavor converges this way, swimming out to coffee while never losing sight of chocolate; tobacco/eucalyptus/chili picante the tummy after-rub
Quality 19.2 / 20
Nothing revolutionary, just solid craft & a notch or two from the sumptuously staggering scale of
Cluizel's Ancones masterpiece
– which puts this damn near the very top. Phenomenal balance & equilibrium in all aspects from the outdoor crop (the last couple according to Vestri have been "favoloso") to the indoor processing. Vanilla the hidden agent, never intruding, just quelling by coloring a bitter insurrection among bottom forces, helping to bring out that malted banana aspect, & a swidden force of sorts allowing sugar clearer access to sweeten upper palate acids for a range that approximates a natural blend.
ING: cocoa mass, cane sugar, cacáo butter, vanilla; CBS ~ 2:3:2