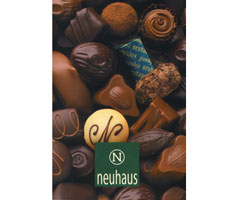 Impact
Historic house that claims several firsts: the invention of filled-chocolates, then later the very box itself to put, this, old stale stuff in; carrying an expiration date of maybe a 1/2-life isotope. Given the international scope & age of the Neuhaus company established in 1857, its development presents an argument in favor of postpartum abortions & against the globalism of organizations like the WTO (World Trade Organization).
Presentation 4.6 / 5
mass-commerce as hi-design in a dizzying arsenal of shapes & sizes, most of perfect mold
Aromas 2.3 / 5
cloying, jelly fruit-laden
Textures/Melt 1.9 / 10
| | |
| --- | --- |
| Shells: | some of the hardest & thickest coatings in the biz; should be mandatory for all armored vehicles patrolling Baghdad, Beirut, or Boston |
| Centers: | varies from dry to dead |
Flavor 13.7 / 50
disjointed & dysfunctional; artificial & hyper-sweet
Quality 6.4 / 30
Pure marketing symptomatic of Obsessive Branding Disorder from 'annoy house'. When a conglomerate grows this large it obviously houses multiple divisions that rarely if ever communicate, let alone coordinate, with each other. How else to explain a brand that boasts some
power bars in its line-up
making such abysmal boxed-chocolate product? Generates laughs along the line that 'they can actually get away with that?'. Naturally... in tandem with ad campaigns priding itself for using only cacáo butter (rather than vegetal oils) while simultaneously corroding their pieces with toxic-levels of sugar, artificial flavorings, & preservatives.
In a word, detritus.
Selections
Criollo
- hard pod-shaped 70%; artificial red flavor upfront gives way to wax factors, then cream simulates
Criollo
; finishes on a dull mold desperately re-animated in cocoa powder
Truffe Buerre
- chocolate evasion; dusted cocoa drifts around some kind of FD&C number w/ a cherry-accent before sinking into pastry butter; dessert fare
Truffe Champagne
- powdered sugar dominates cream center amped w/ more sugar crystals & milk ganache containing but a couple drops of good cheap bubbles... inhering their own sugar-content to maintain the spirit theme
Paola
- tough Milk shell bites into an even harder interior of whole hazelnut & praliné destined for a roasted sugar swamp
Astrid
- glazed sugarcube of gianduja & horrid potassium sorbate at the back; strong enough to dissolve tooth enamel
Pagode
- supposedly a coffee gianduja but really artificially-pranked maple
Kriek
- advertised as beer & cherry (both fake); pure gleek
Raspberry
- fruit-flavored putty aggravated by an undercurrent of slag gianduja