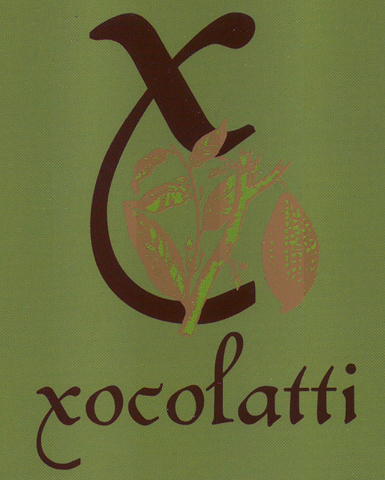 Impact
Prospects nowadays can hop online to train for a career as celebutard.
For chocolate stardom here's the step-by-step method: crash into a
cacao tree
while txt'ing, then write the children's book about it; launch a clothing line of the skimpiest articles made from edible chocolate; own a chocolate-themed club / lounge (or better yet why the headache – just endorse one, Trump-style, for a fee); star in the obligatory sex tape timed to the release a signature fragrance of... what else?, lickable chocolate.
Anything less & the resume appears thinner than an amateur webcam at a hospice in Sun City, Arizona.
Hence this boxed choc assortment. From its inception at the 2010
NYC Chocolate Salon
, Xocolatti steeped itself in the trivium & quadrivium of branding & ad spin like a good li'l MBA scholastic wondering how many dollar signs can dance on the head of a truffle.
The chocolate liquor then in use (Callebaut) was probably refined in a punch-bowl commode so yarfing could commence immediately. Crawling on the floor is half the fun in lower Manhattan.
Just a year later, Xocolatti moved out of its home-economics kitchen & into a SoHo-NYC address, housed in a shoe store-cum-chocolate shop with boxes creatively lining the walls (in fact, they are the walls).
More than just the address has changed.
An upgrade in couverture to
Valrhona
& a giant step, if not a quantum leap, in technique.
Consider this an object lesson in a chocolateer's (rapid) evolution, namely, the young millennial Shaineal Shah (with an assist from his mother Mona).
But will he be able to survive in his new spot right around the corner from one of the city's best --
Kee's Chocolate
?
Now that most of the neighborhood art galleries have scuttled uptown to Chelsea (yes, to residents of lower Manhattan, anything above 14th Street
is
definitely uptown... a trip to the arts acropolis called Lincoln Center, for instance, might as well be in Athens cuz that's a foreign trip), replaced by cosmetics, sure... for Xocolatti presents the right aprés makeup / makeover indulgence.
Let's hope so anyway for the sake of another competitor-neighbor: the fine-chocolate fraud called
Vosges
... who'd do well to ditch those Cordon Bleu certificates that she bought while vacationing in France & authenticate her glossy India-inspired inclusions by becoming an understudy to Shaineal Shah of Xocolatti.
Presentation 4.8 / 5
A-1 ('A' for Ace); visually stunning: heavy gauge card stock & Bergdorf-level box fit for a King Tut, done up in brown 'n green – a 'congreenience' of chocolate & sustainability that leaves bigger carbon footprints than BP & Obama flying an entourage combined... all drenched in sensory overkill hyperbole (a
C-spot
™ specialty) including several violations of the
Banned Word List
, as well as the now nauseating 'like a delicate fine wine' talk; molded truffles inside, gleaming in a certain luster-dust but 'What have we here, Robin... a 4-piece container filled with only 2 truffles! Holy Joker, Batman' & each preciously one-bite sized at that
Aromas 3.9 / 5
what once brought fabricated hardware store putty & wax (the handicraft of Callebaut, no doubt, Xocolatti's former couverture) now wrinkles the nose with studied reserve &, alas, some off-note to suggest cream past its shelf-life & more like buttermilk
Textures/Melt 7.9 / 10
| | |
| --- | --- |
| Shells: | medium gauge with plastic sheer |
| Centers: | fairly quick dissolve & release; runs fast-away from the tongue (hi-cream / lo-cocoa fill) |
Flavor 42.4 / 50
high cream-to-cocoa ratio + bulk-grade couverture meant chocolate was a victim, that is, until
Valrhona
showed up in this box, & since "each is a piece of art meant to be critiqued" it'd be sacrilege to expound on more than 1 or 2, no? (see sacrilegious
Selections
below)
Quality 24.6 / 30
Compliments of the 2010
Chocolate Salon
'goodie bag' along with Bustelo™ coffee, Palmer's™ Cocoa Butter goop-lotion (mostly petrochemical byproducts), PeanutButter & Co squeeze packs, & a copy of Dessert mag.
As
the C-spot
™ advised in its original January 2011 Review: "Xocolatti would do well to lose the couverture, gain some experience, leave the 'Roccocoa' scripts to the critics, & concentrate on... ya know, stuff ya can't bag... like genuine craft."
It has done just that. Novice / pre-apprenticeship-turned-maturing craftsman.
Selections
Dark - a finely-dusted palet d'or... teethes into desiccated cocoa for a totally parched thirst until cream slackens & a fruit-pop chocolate quenches it; supreme lateral movement excels in a triple-tiered sequence of hi-medium-low flavor structure; skilled

Sake - blue/purple-colored construction plagued by technical difficulties as the shell, which harbors a wet rice-paddy, separates altogether from the ganache; puddly flavor too except for the dry aftermath providing good length to qualify the overall impression

Liliko'li - fancy Hawai'ian name for 'passionfruit'; even fancier robe – a chocolate sequined globe shone from sugar crystal bearing little influence on the tart citrus; inartful

Olive Oil - a study in Texture (cashmere suave) as well as a well-measured balancing-act that sustains itself steadily throughout the melt because of it; super supple

Rose-Cardamom - snapping shell cracks onto a rose that attaches an herbal rather than the oft-medicinal tinge to cardamom, whilst cocoa bridges them into full fusion; expertly contained elements lead to an all-too-rare poised persistency

Reviewed January 2011; Updated October 17, 2011