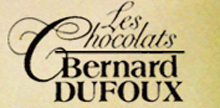 Impact
The separation between Bernard DuFoux's hand & the ingredients is virtually nonexistent; the gap closed, the distance being the zero-point where all becomes 1... -of-a-kind... that let this box take flight. He's a chocolate Chiroptera: 'hand & wing'.
Presentation 4.1 / 5
pretty humble; plain white battalion box w/ flap-top, akin to a Chinese take-out carton, but compact as a brick, w/ a warning sign inside that reads: consume soon; & there they are – a motley slew of odd-shaped figures in a triple-deck no less, packed super tight (none of the acreage & pillowy pleated paper cup stuff), simple thin, hand-dipped, & bite-sized, each with their name inscribed in a rolling script like a class of school kids... just gotta luv 'em
Aromas 5 / 5
multifaceted: air-looming flowers, exotic jellies, berries, spices like licorice, nuts, citrus, herbs... &, oh, chocolate plenitude
Textures/Melt 9.2 / 10
| | |
| --- | --- |
| Shells: | semi-thick w/ sharp, crisp snap |
| Centers: | silk-soft-smooth; substantial, 1:1 ratio (possibly even heavier) perfectly melts & coats |
Flavor 48.4 / 50
'walk softly & carry a big stick'; nakedly honest, barely a quantum dot of artifice; dark but non-bitter couverture blankets praline, marzipan, or ganache (or sometimes a combo of two); always begins & ends in chocolate... infusions come alive & mingle, one combining w/ the other, yet still maintaining their singularities; delicate but never meek; distinct & present w/out overwhelming; subtle enough to tip-toe side by side w/ chocolate, while neither gets lost; phenomenal
Quality 29.3 / 30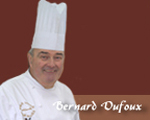 Intelligent, worshipful collection too authentic to be fabricated. Masterful spirit & strength full of intrigue & sublime with no need for bells & whistles, or pretty mouth sculptures. In a country where scores of exceptional chocolatiers abound, & only a handful can rise to the top, this stands out. Bernard DuFoux himself has been at it now for around 50 years. Jump on this while you can.
Selections
Tonka – the fabled tonka bean; banned in several countries due to the root of its seductive scent – the dreaded coumarin toxin; few elements rival it for complexity (maybe wattleseed, saba or, of course, chocolate); here DuFoux accentuates the intrinsic factors cloves, bitter almond, & cassia (another coumarin-laced compound); honesty encapsulated
Palet d'Or – stark, as it should be; in all probability Valrhona's Araguani supplies the base, w/ its plenary dark plum & the cacáo's inherent cream slightly amplified & warmed by DuFoux for a brandy-like strike
Chocophile – another simple, unadorned dark ganache employing a 70%that's flipside to Palet d'Or, brighter & lighter ala Manjari w/ cream added to subdue & cool
Caprice de Caroline - pistachio praline whose characteristic husky green flavor gets constantly teased out by couverture
Symphonie Pastorale – tremendous lateral movement, as vociferous Chambord liqueur gradually hushed in chocolate; not Handel, definitely Beethoven No. 6 all the way thru
Abricot – oh, mon petit apricot... just a little red riding hood on the tail of the big bad choco-wolf, coloring it w/ added depth; darkly sublime
Secret Tibetan – less is more... why? God works in mysterious ways, such as without myth essence becomes lost; this deftly connects the upper stratosphere down to earth, then re-balances them in suspension on the roof of the world... huh? How?
L'Etoile – homage to celebritude? Or Denise Acabo? - who runs a shop in Paris by the same name (arguably the best chocolate destination on earth); this may change the minds of even those who hate on marzipan; a nut house multiplex, seemingly w/ almond, pistachio, & cashew (+ perhaps more prestidigitation by the trickster DuFoux)
Le Bruno – Giordana, no doubt; burned at the stake but kept alive in this black & white verdict on history, 'cleaving the heavens' - to quote the martyr of science himself; chocolate as social philosophy
Amande Amer – a dense Dark, needled w/ almond kernel syringe, of a scale & depth unfathomable
Cabrion Orange – turns up the infused volume, including pulp, met forcefully by chocolate & then the dance is on
Mint- vivid soft herb breaks thru deep chocolate
Peach- bright warmth
Framboise – raspberry; dark chocolate balances tart sweetness; great, berry clean capture, none of the usual opaque pink cream syrup that are acrid & saccharine; among best in category – anywhere by anyone
Spirit infusions bring it, w/ warmth found in the glass, + added flavors, w/out the alcohol rub numbing lips, buds, & overpowering the senses