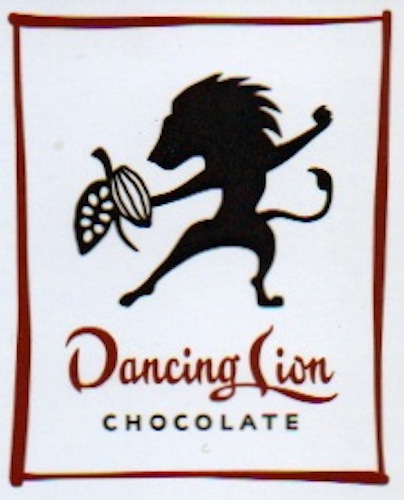 Impact
Every senior & their grandkid bused in for Wednesday matinees of the Lion King on Broadway know that big cats can be ravenously hungry & perform a little dance step or two.

This box by chocolate transformer Richard Tango-Lowry will get 'em up on their hind legs roaring with joy.
Presentation 4.5 / 5
appealing all the way around in keeping with its motto Chocolate as Art
functional box with attractive design elements such as craft paper
sizable pieces (1 large bite or 2 smaller noshes)
good attention to detail from the enrobing & transfers to the luster dust
Aromas 4.1 / 5
plenary, centered around cocoa-cream
Textures/Melt 8.6 / 10
| | |
| --- | --- |
| Shells: | sturdy gauge with some real snappers among them |
| Centers: | that unstoppable sinking feeling |
Flavor 42.2 / 50
Definitely on the sweet side but none too cloying.
Though loud, nothing sits up obnoxiously & a few even less than obvious, the Dancing Lion tip-toeing about the flavors.
Quality 24.5 / 30
Unpretentious. A true home spirit pervades.
Straddles an agile line between dessert fare / haute chocolate. Of particular note:
Dancing
Lion contracts with some of the finer American
barsmiths
to customize blended couvertures which in every instance, without fail, serve as a strong foundation for these pieces in a great showcase of them.
Selections
Fire on the Lemon Tree -- super toothsome, very sweet but in a comforting rather than sickening dimension

Egg Noggin' -- heavy on the spice (especially cinnamon-driven), light on the whiskey (Yellow Spot) & a terrific confluence at the stem (sweet; sherry-marshmallow-port); more proof-positive that whiskey, not wine, hooks up best with chocolate

Walnut Cluster --true to the core constituents underpinned with a raisin note

Plus a couple others… one boasting a fanned nautilus design characterized by a melt away interior, incredibly creamy, buttery in fact, in contrast to the Dairy Queen® brazier snap of the shell & another paying homage to chocolate's heritage with a Mayan glyph, so sweetly balsamic, strong & long that melds terrifically at the rear.

Reviewed February 16, 2015