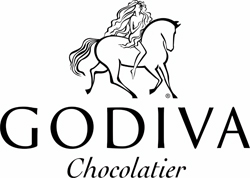 Impact
The luxury of the Aztecs, re-imagined by Zsa-Zsa Gaboring. What does Godiva really stand for? O, the poet of it, tell us the ways:
G irl
O bjectifies
D onkey,
I nstantly
V oids
A ss
Presentation 5 / 5
Ask people on the street what they consider good chocolate & the most frequent answer: Godiva. The gold standard by sheer muscle of being the 800 lb. gorilla with an iconic gold box to rival Tiffany's Blue.
Aromas 1.7 / 5
vacant
Textures/Melt 4.1 / 10
| | |
| --- | --- |
| Shells: | thick |
| Centers: | whip-its |
Flavor 17.2 / 50
cacáo an innocent bystander; sugar-slain chocolate the pre-eminent flavor, followed by ear wax, chalk, & glue disguised as candy, so much so this company understands it's a threat to itself: now markets a respectable sub-line available during cash peak holidays called 'G Collection' – a buy-in to enter the world of prestige-chocolate – subcontracted out to Florida chocolatier
Norman Love
because its own in-house production is pitiful
Quality 8.6 / 30
Worse than feared. Condensed goods wrapped in a gold-foiled box instead of a tin can, allowing industrial slag to parade as "gourmet".
Selections
| | |
| --- | --- |
| Couverture: | generic Belgian |