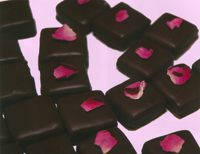 Impact
Rare (alas, discontinued) breed – both conceptual & comestible, including multiple-tasting categories that read like some flavorist science manual. Anasa is Swahili for 'prosperity', 'comfort', 'festive', & world wonder but in Spanish it means 'insect'. This guy'll bug ya & get under your skin - he's that good. General traits: an approach that shares some DNA with Dominique & Cindy Duby at Wild Sweets, as well as the unlikely Eric Dolphy, seeing how the brother can blow with an identifiable hand all his own, generating a frenzy in the mouth with Hi-5s all around.
Presentation 4.1 / 5
nothing too ornate; just timely, often seasonal boxed sets filled w/ mostly enrobed pieces
Aromas 4.4 / 5
mainly cocoa
Textures/Melt 8 / 10
| | |
| --- | --- |
| Shells: | sound, intact w/out being tough |
| Centers: | highly variable from silk cream to firm gel |
Flavor 44.2 / 50
tend to be shy, occasionally mute but by no means always - some pieces go off just the opposite & scream; profiles are very honest & loyal to the elements
Quality 25.4 / 30
Peaks & valleys but good throughout with only a couple jagged lapses.
Selections
Fruit & Preserve Collection
Strawberry – full-on cocoaroma w/ teasing berry centerpoint that streams quietly on an ever-so-subtle tip; chocolate first, foremost, & finally
Pomegranate – good strong couverture; jelled texture; evanescent preserve flavor, very recessed to the point of imprisoned, characteristic of a French approach, backed by fortified chocolate base
Fig + Ginger – a weighty crafted piece; pronounced, especially ginger, w/ fig adding body
Lemon – obvious, bold, even raw; plain naked gift – best of the preserve collection

Flowers & Herbs (a potpourri verging on medicinal strength)
Jasmine – starkly smooth surface, well-perfumed in & out of the ganache; concentrated dried jasmine w/ size
Bergamot – clear, clean, glassy rings; bergamot just sings over the couverture in the best integration yet
Rose – again, dried petal-strength, translating the whole into a darker meatier experience
Peppermint – soft mint amplified thru time & body temperature; deftly balanced

Exotic Spices (highlight & focal point of all the series; scale & proportion shows real skill & dexterity; total bravo)
Ginger-Lemon – back to the gelé; evenly blended mix, practically seamless; high harmony terrifically balanced
Chinese 5 Spice – soft interior, almost a caramel-nut cream that goes long & loud on rarefied flavor
Cinnamon – cavalcade of cinnamon well-situated in swellegant milk chocolate bed
Coffee-Cardamon – another soft-cream milk chocolate canvas; exceptional, w/ the caveat that it calls out for trace more spice

Nuts & Dried Fruits
Cashew – phantom light & sweet (perhaps salted & roasted would pierce thru & match better)
Pistachio – viscous thick, implacable melt & taste; one of the few demanding to clear the throat & rinse
Almond – over milk chocolate; a near praliné that stays raw to the root & never rises
Pecan – soft dark interior w/ a soiled ground nut finish