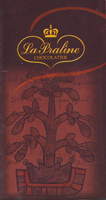 Impact
Belgium in the jungle... gives a sense of how chocolate might have been if King Leopold held onto the Congo.
Ludo Gillis, transplanted to Venezuela from Antwerp, enjoys home-field advantage because his
adopted country's backyard
teems with arguably the most prized cacáo on earth. Add to that its tropical bounty of wild fruits, flowers, & nuts, & he puts you closer to the source deploying those 'IT' factors, utilizing an indigenous approach where one can taste The Force... even from thousands of miles away.
Presentation 4 / 5
Godiva gold box transmuted into silver; stock molded schlubs inside
Aromas 4.4 / 5
dusted buttermilk-chocolate & banana w/ a little potted fertilizer
Textures/Melt 7.1 / 10
| | |
| --- | --- |
| Shells: | varies thru thick 'n thin, from modified French (semi-light) to fortified Belgian (heavy armor) |
| Centers: | mostly coarse & granulated; a few classic Belgian creams |
Flavor 46.2 / 50
raw & unrefined & real; a touch too enamored in sugar, otherwise good equilibrium & flavor evolutions that take a while to congeal but are eventually luci in taste, occasionally even pure
Quality 27.5 / 30
Rough in which the ends (with results that speak for themselves & are too authentic to be fabricated) justify the means (a homage to cacáo's roots)
Selections
| | |
| --- | --- |
| Couverture: | El Rey; Belcolade |
Flor de Parchita
- Passionflower Caramel; unruly fruit acids ably escorted by Milk Choc caramel for 1 bumptious sweet-tart
Citron Dark
- bright 'n tight lemon sweeps over a Dark-on-White piece until chocolate draws in closer & balms it at the back; good motion & progression
Mariposita
- stiffest texture of the set; lavender praline... grit, sand, & dirt to go along w/ herb, all-obstructing flavor... then a back confluence rush of nuts & flowers overtakes the senses
Karoma
- Dark-on-Milk / East-meets-West... Asian spice chest lacquered in Belgian-style whipped creamed assembly; soft in every aspect; excellent
Pina
- gritty/grainy taut pineapple caramel; epitomizes the raw & unrefined & real
Milk
- El Rey's
Caoba
given the cream treatment, brings out more of the malt
Champagne
- pin-prick grape bubbles pair up & oxidize w/ granular cocoa to form plum brandy
Macadamia Marzipan
- another grain-filled texture; at 1st blush, one the collection could do w/o, then on 2nd thought, pretty unusual (compared to typical almond or pistachio varieties) & respectable