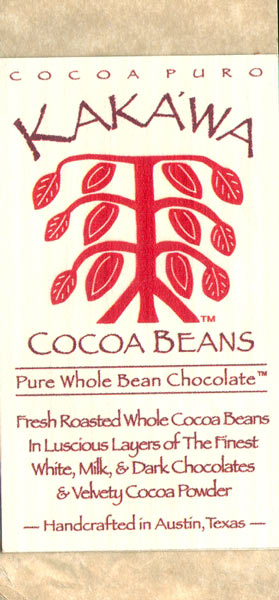 Impact
More than a chocolatier, Mark Sciscenti, the force behind Kakawa (the earliest-known name for cacáo, coined by the Olmec civilization – among the tree's earliest cultivators.), is a cacáo explorer / field researcher, & self-described 'alchemist'. The man has done his homework.

A latter-day Fray Diego Durán, that 16th century priest who experienced the collision between the Mexìcâ & the Conquistadores first hand when it was all going down. Diego became fluent in the native Nahuatl while living in Texcoco (one of the Triple Alliance along with the Aztecs & the Tlacopan) & published the insider account in Historia de las Indias.

Authentically crafted "historic" chocolate employing true old-school methods applied to recipes unearthed from the archives – but at a price: the stuff's built for rugged outdoor construction types... spiny & bristling... under which the faint-of-heart will wither & even some tough-skins will get singed. Uncompromising; nothing diluted here to make the cup of chocolate, as the good friar Diego wrote, fit for water flies.


Presentation 4.8 / 5
rustic-future
Aromas 4.7 / 5
live
Textures/Melt 6.3 / 10
| | |
| --- | --- |
| Shells: | dry & astringent |
| Centers: | gravel |
Flavor 35.6 / 50
wild to extreme; excitement & determination over talent & performance
Quality 19.8 / 30
Generally raw, rough, & rugged
Selections
| | |
| --- | --- |
| Couverture: | various; some in-house |
LIQUID - Heirloom cocoa liquids, formed into potecha-style carrying disks / wafers. Topographical inventions tasting of a lot of hard lessons acquired in the desert. At turns stout, hardy, dancey, tender, & prickly. Very western-saddle, often with an over-reliance on almond straying toward marzipan.
Mayan Full Spice Elixir– fragrant mix, especially rise of almond & cherry & whatever other seasonal flowers happen to be available under this heavy wave; dissolves into a sienna Soconusco River that runs white watery, very little viscosity; an immediate chocolate flash rapidly overridden by pepper spray backed in almond; slight gravel on the edges; (in the 'Solid State' version [see below] both the chocolate attack & pepper length are amplified & longer); biting, w/ hot chili interference
Chili Elixir – rounder w/ more sheen than its Mayan cousin, a shade darker too w/ readily identifiable cocoa nose swept by the capsaicin of ancho; mild, sweet, airy yet herbal in a light bodied liquid; (again, in the 'Solid State' version, pepper stands in taller & stronger)
Rose-Almond Elixir – pear / tear-shaped, softer earth brown; aroma true to its name; agave takes too much of the lead; followed by an assertive chocolate–rose-pepper sequence

TRUFFLES - Very grounded, close to the elements; well-held infusions enrobed by a relatively thin snap armor; though lacking roundness of, say, a typical Belgian ganache, full-bodied nonetheless. More experimental than innovative, however. Lashes out at traditions & standards, mastering technique only to destroy rather than abandon it for higher forms. A heavy-handed creative-disaster.
Chili – saddle up, you're going down
Gorgonzola – French barnyard fecal matter
Lavender – medicinal strength; overflowering power that quiets only out back
POM – aerosal pomegranate; bracing citric wake-up
Elderberry – unusual in that it's too rarely featured in the chocolate world; nibby & naughty nice
Mezcal – a mouth worm snaking thru w/ superb balance; fortified yet yielding, masculine & sweet
Pearl Sake – crude, rude & never lewd - just loud
PpCW – Prickly Pear Cactus Wine; unremarkable for such a name 'til the end point... this is no priss
Wasabi/ – like love often is - a messy affair
Bilberry – another under-utilized element; respectable; brassy w/out blaring

SOLID STATE 'BARS'
80% Roasted Nuts – four-fifths marzipaned; one-fifth inconsequential
80% Cinnamon Almond – perhaps the height of collection; gritty hard saddle material, spares the need for any expensive refinements - just gets out of the way
80% Chili – naked acid rain on the Scoville-Index
80% Dark – unadulterated