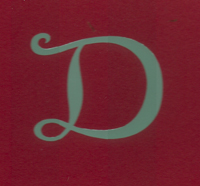 Impact
REDUX REVIEW: 'New & Improved' best applies to laundry detergent & household cleaning supplies. Referring to chocolate, the 'New & Improved' line of Demarquette contains a disinfectant in virtually every piece: an inadvertent flavoring mopping up this box. MESSAGE TO CHOCOLATIERS: consider the strength of an infusion & the shell thickness before wrapping a bunch of assortments up together.

That aside, the following covers Demarquette's filled-chocolates originally reviewed in 2010 with a refresh (literally, thanks to the disinfectant) in 2015. Due to the presumed aberration, the rating reflects only the first one (& because it's possible to read thru the leakage, down into some equally suburb craft).

Chocolate's a soft med: greater than food, fewer side-effects than prescription drugs. Naturopathy, if you will.

MD stands for Marc Demarquette - the Dr. Feelgood of boxed chocolates.
Presentation 4.5 / 5
precious little grandstanding; simple scarlet & grey (Ohio State Buckeyes or the football equivalent in the UK); self-titled pieces w/ their names inscribed on the them - very utilitarian & functional... all nosher-sized squares in a comparatively limited line-up in terms of variety next to most shops - yet another good sign: focus
Aromas 4.8 / 5
alternating current of tropical tang & chocolate dunes; quite extracted
Textures/Melt 9.7 / 10
| | |
| --- | --- |
| Shells: | apparition of micro-thin b/c the continuum of a dwindling differential between it & the center |
| Centers: | planetary; velvet 'n satin cream vectors; contender for best on earth |
Flavor 43.9 / 50
breathing specimens of cream as a conduit (rather than a condiment) for flavor expression, deftly escorting infusions thru hyper-textural beds; overall fairly bold (despite being a twee sugar-happy) in a paradoxically trim aperture; missing the volume & flair of cross-town rivals in London (
Artisan
,
William Curley
) taking a more humble tact, respecting proportion to scale for greater equilibrium
Quality 27 / 30
Athletes & artists know what it feels like to be "in the zone". Everything goes right. Solid consistency. Unpretentious delivery.

Somewhat an unsung hero (MD's probably too focused to notice) in this nation of shoppe keepers & English gardeners. No hype; nothin' crazy... just piling up the points. But before long, it's 'game, set, & match'.
Selections
2015:

Rocher Dark -- fairly smooth for a Rocher (only minor rocks in it) & a distinct lemon-tinge (perhaps leakage from the next piece over sitting in the box); either way, quite the pleasure cube

Rocher Milk -- both visibly & texturally a more rocky Rocher; flavor-wise this too carries a lemon edge

Salted Caramel -- an obligatory standby now of the new chocolate era except this unconventionally exudes a twisted lemonness over the butter scotched backdrop… hmmm….

Feve de Cacao -- coarse texture, an unflavored straight chocolate-chocolate but, yep, it also inflects with… guess what?…. despite being located in the farthest slot from the problem

Raspberry -- even though lemon intrudes, raspberry matches well with it & even wards it off for the most part with its pip-strength

Sesame Lemon -- ahhh, the culprit & yet, oddly, citrus dominates this less than in the other non-lemon pieces, as sesame seeds more than hold their own against it; that aside, a positive if unusual pairing

Za'atar -- savory herbs manage to escape the lemon (for the most part) & in the process treat cacáo as another one of them; unique, exotic, otherworldly & special… perhaps Demarquette's best ever -- with or without the citrus twist

2010:

Honey - wildflower & orange blossom honeys combing their way thru cacáo's own sweet fruit; pure

Thai Lemongrass - more lemon than grass, & enough cream to control the DEET-like FXs of many other attempts using this herb

Sicilian Lemon - Sicily's basically a citrus orchard... more than agricultural cultivation, it's an ancient tradition; locals swear their lemon goes beyond fruit... toward a liniment, & Demarquette just balms it - highly concentrated (incl an occasional rind zest) yet caressing w/ phenomenal length long after the actual contact from the touch has been lifted

Raisin & Rivesaltes - wine pros are all over Riversaltes, France primarily for its Muscat, perhaps the oldest of all cultivated grape varieties; about as strong as Demarquette gets... leaning then titled forward; not exceptionable but also very little interplay as the extracted grape effortlessly subsumes the cocoa bean til the end when its tannic force emerges as the last-standing hero, coloring the grape purple for pomegranate

Blanc Manger des Antilles - dark brooding tropics; spiced coconut & aged-rum; again, cacáo's back-set tannins stream the components together to absolutely kick some face; signature piece

Earl Grey Tea - pronounced bergamot eventually quelled by tea, ultimately synergized in chocolate

Arabian Coffee - Demarquette on the surface appears regular but inside it's all special; no cheap Robusta filler here... just the good stuff innovated w/in a caramelized network; extra-ordinary

Reviewed Summer 2010
Refreshed January 29, 2015