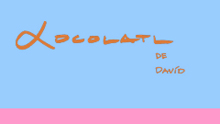 Impact
You know you're good when you can get over on a 1st-name basis only (Cleopatra, Michaelangelo, Napolean, Miles, Ornette, Marlon, Odetta, Cher, Bono, Madonna, Angelina, Barack, Babe, Wilt, Shaq, Brett, et. al.). The work of someone who simply goes by Davíd (note marquee accent) to captain taste buds on short luxury cruises.
Presentation 2.6 / 5
clearly plain & simple; see-thru plastic gives full view of chocolate within
Aromas 4.5 / 5
chocolate-rich laced w/ fruit & licorice traces
Textures/Melt 9.2 / 10
| | |
| --- | --- |
| Shells: | medium |
| Centers: | beguiling; ultra creamy, thick w/ velvet smoothness |
Flavor 45.1 / 50
Scharffen-Berger on exhibit: dark earth tone, w/o acrid bitterness, stands well enough on its own... then subtly infused w/ deft hand for whispering flavors bold in information but quiet in the telling
Quality 28.7 / 30
A whole other level of well-matched / highly-balanced flavor combinations mixing New School thinking with Classic skills.
Selections
| | |
| --- | --- |
| Couverture: | Scharffen Berger |
Rose Hips & Berries – bashes-out high raspberry in the upper palate expertly grounded by dark earthen chocolate, the effects heightened by hyper-cream ganache; stellar taste & texture
Coconut Lemongrass – consummate precision / tremendous flavor combo; subtle yet pronounced whisper w/ well-bred vowels & consonants
Orange Cardamom – classic chocolate-orange mediated to another level via cardamom interlining the combo
Salt 'n Pepper – Dark Chocolate the theme in this sweet 'n savory play; black pepper mildly perfumes ganache while salt draws it out to heighten a spiraling helix; very accomplished
Bacon Chocolate – foul & stylistically out of sync; novelty chocolate trampled on by a wild boar, further decimated by smoldering smoke; waste of taste