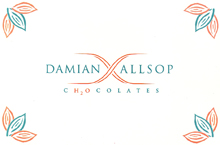 Impact
Forget the urban bad-boy artist or The Omen. This is the Damien of South Park (Season 1; Episode 8) – serious fun. In "The Final Fight" between good & evil / Jesus vs. Satan, the referee instructs both that he wants a clean bout... "no punching below the belt, holding, or miracles". What he ignored was cheating. And Allsop cheats all the time... with his genius; a decidedly unfair advantage.

When marketing concepts today infect just about everything from political parties, indeed whole countries, construed as 'brands', to infrequent sex in marriage being a calculation based on 'opportunity cost', it requires the likes of Damian Allsop to restore that undying faith in going your own way, to the beat of your own drum, stepping off the global amusement park ride... the one where most of the world's population is a cattle herd on a commercial carousal.

The take-away: he gives the sense that, like the Trekker in 1st Contact, he too is not trying to be a great man, just a man. In his case, a mega-chocolate-man. 'Frabjous' as Lewis Carroll wrote in Jabberwocky... & that ain't no nonsense.
Presentation 4.4 / 5
pristine clean lines & packaging (very utilitarian / all-business British) incl transparent vellum printed w/ the respeective names overlaying each piece; fairly uniform nosh-sized standing-cubes... set in their box, looks of retail dept-store stack
Aromas 4 / 5
vibes the Mideast; lite & herbal, a potpourri giving off a gestalt to caraway
Textures/Melt 8.9 / 10
| | |
| --- | --- |
| Shells: | fragile |
| Centers: | viscous fluid, naturally, w/ plenty of body to sink teeth into... never really misses the cream |
Flavor 46.6 / 50
transparent revelations; simultaneously strong & delicate, slipping molecular bonds that flow w/o ever fully letting go; in the process chocolate becomes different, ionized & oxidized to lighter altitude craft
Quality 28.2 / 30
Chocolate less the hero than the medium for Damian's psychic experiments, eyes impishly peering over his specs, leaning on the alembics, confecting the next concoction. Beneath this exterior, Allsop is all nonstop business, as in the science of good taste: water-based ganache, the emulsion of H2O + cacáo instead of the standard cream, creating the new way of viewing thru the chocolate prism. Shades of another Molecular Gastronomy acolyte –
DC Duby
- but Allsop is more spare, a Phil Glass minimalist to Duby's digi-tech tools & formulas that draft as much off Arthur C. Clarke's space elevators in
Fountains of Paradise
than they do from their mutual mentor - Ferran Adrià of el Bulli fame.
This approach does lack some of the magnitude found in cream-based counterparts; cacáo's tannic force diluted & reduced. On the upside, it lets flavors come thru clearly & cleanly at their more natural pitch & register. Strange as a platypus with a certain weirding that works remarkably well together.
PS: Stick to the ganaches. Chocolate-covered nuts & fruits drastically less successful (except for the dangerously delirious White Chocolate-covered Raspberries)
Selections
Single Estate 67%
-
Cluizel's Los Ancones
in its full glory dilution; water trades-in much of the original bar's earth-driven aspects for a fruit-filled monster (especially a gi-normous raisin) outlined in licorice; salivatory
Tea & Bergamote
- bergamot Windex just wipes the beginning, riles & rouses the other elements which fold it back into a chocolate-leaf tapestry that goes candied at the finish w/ malted Milk Chocolate-like ending; super guile
English Mint
- subdued in a potent mischievous way that it grows up a camphorous caraway-inflected chocolate w/ none of the mentha toothpaste sprig; tremendously different
Pear Willialms & Anise
- architextural; Milk-on-Dark w/ a gelée center; least chocolate presence of the set; very bright instead, nearing citrus, fruit-reduction tempered in anise's licorice tones
Salty Liquorice
- is exactly what it is - dark brilliance - perfectly balanced & embedded in a soft textural mattress; molasses caramel in the after length
Crunchy Hazelnut
- Milk-on-Milk; the most traditional of the collection; gianduja goo... cloying, salted, nutty, satisfying
Cocoa-covered Almonds 'n Spices
- curry mostly carries the day; a dish more than a confection
White Chocolate-covered Raspberries
- a freeze-dried raspberries 'n cream version of fruit popcorn (mint extra)
White Chocolate-covered Pistachios
- acidic yoghurt - puckering tart & tangy - just sours across salted pistachio
Reviewed November 2009