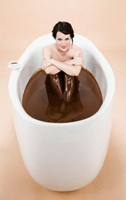 Impact
A name loaded with tonnage as well as a tongue-twisting melody but, as Muhammad Ali said, it ain't braggin', if you can back it up. This woman can bring the thunder & lay the lumber. Fiercely spirited; seemingly undaunted.
Presentation 5 / 5
enormous shipping container – often a sign of mass-produced grocery store candy - turns out to be a Pandora's box of ever precious reductions; overall presentation 1st rate, whether the sleek industrial tin casing for filled-chocs or CD disks for bars
Aromas 4.75 / 5
big choc tkt; bold & aggressive; wafts of
William Curley
(also among rare breed employing Amedei couverture)
Textures/Melt 7.9 / 10
| | |
| --- | --- |
| Shells: | for the most part yield gently, some break-up & crumble (particularly Chuao) |
| Centers: | ranging from fluid centers to fuller bodies |
Flavor 43.6 / 50
punctuated by infusions – amplitude often interferes w/ seamless integration; could take a page from reigning champ
Jacques Genin
whose ganaches are ever present while never letting them overwhelm the piece, thereby keeping it chocolate dominant, achieving greater equilibrium
Quality 26.3 / 30
A myriad of combinations, some still to be fulfilled & harmonized, several others are works-in-progress, but generalized daring-do & craft announcing an up & coming contender.
Selections
LES CLASSIQUES
– silk-screened square mesas or decapitated pyramids & monoliths present themselves as disjointed pieces of a puzzle
Chai
– a gestalt more cinnamon, due to the spicing, than tea so maybe masala is more apt; forward for French chocolate-making but then again Quebec is different from France; goes the deep distance w/ roasted leaf at the back
Erable
– mercifully restrained, characterized by softly moist interior interspersed w/ chopped pecan; a segregated assembly that balances out by the finish while remaining paradoxically confused to the very end... the definition of hodge-podge pancake & syrup breakfast
Citron Vert
– immediate & bracing w/o singeing & burning; deft placement of lime pigment to an embracing chocolate canvas; real skills
Caramel Fleur de Sel
- soft viscosity w/o any pull, cut by tall salt pillar, enrobed in the firmest cocoa of the collection, a force-noir fermented-flush which subsumes caramel; excellent twixt sweet & sour twang
Fruit de la Passion
– most confident snap of the set; a little too sassy & brassy before splaying out in a 1-note passion of persistence
Extra-vierge
– mysterious conjurer; weighty interplay between cacáo butter & olive's oil; goes nowhere but doesn't need to – just holds its full bodied roundness at the centerpoint where fat is gorgeous; purely unctuous & a contender to
Pierre Marcolini's
version
Piment
– evasive, & oddly light-handed compared to the rest of the line; tastes almost of a Hershey's Kiss on the tip of a hammer until the back, where the softest heat of the pepper stokes in; a welcome piece even as the super subtle notch defies its elements & advertising
Le 9
– bizarre blast of too much maraschino-cum-Valrhona until
Amedei's No. 9
blend kicks it
Gianduja
– solid rendition of the venerable benchmark; tone back the hi-sugar content & vital elements will emerge further
COOLECTION CHUAO
Balsamico
– on the surface & from the sounds of it, a disaster in the making, a ruinous concept akin to siccing Jackson Pollack on a da Vinci canvas but turns out a measured meeting of 2 stalwarts, tenderly paired; exceptional
Monte Cristo
– part gimmick/part distraction full of damp horse leather that just smokes it
Truffe noir
– comme ci comme ca-ca
Pure
– as titled... cacáo's sentiments exactly... to leave well enough alone
BARS
– much in the design mold of
Chocolate Cartel
Le Carre Gianduja
– a gossamer film of muted hazelnut paste laced thru an equally tame cacáo that cancel each other to put the balm on
Carre de Sel
– recessed latex nose; salt unevenly distributed, lacking uniformity & fails to sell; chocolate produces extreme delayed reaction – attack virtually absent until ambushing deep in the middle frame of the melt where its bouquet rises to a great riot
Carre Espelette
– full length cacáo w/ heat rising; mercifully allowing the pepper's flavor rather than just its fire; astute; strength thru subtlety & balance, graceful yet masculine
Carre Noir
– 70% reconstituted Venzy; straight, true & simple w/ little value-add; gentle, understated, streamlined w/ a soft Marcolini-like
Fleur de Cacao
effect; beautifully simply
Noix d'Erable
– simultaneously unique, fun & noble