Impact
Nobody can place so many near-phantom flavor-angels on the head of a taste-bud, & get them spinning so sidereally as whirling dervishes, like Jacques Genin. Truth is, all the impeccably-balanced precision-points feel Porsche-like, so smooth & exacting to be almost tranquil, even commonplace - the distinctions finer than hair widths, slighter than sighing breaths, the narcissism of small differences - that only a ZaZen reflection can catch, & even then just a glimpse. His blood, as evidenced thru the passion of his work, flows much sweeter & deeper than wine because his chocolate DNA is definitional 'subliminal'. Tracers, apparitions, visions, sorcerers, elves, wizards play together, & flourish apart, in a chocolate Hogwarts. Their tasks are the taste of magick, but to do it day-by-day requires science. Vitally pulsing, in each piece's snap hear the audible parody on morituri te salutamus - 'we who are about to be consumed, salute thee'. A classic genius, the unanswerable headmaster, with a doctoral dissertation written in chocolate; Dr. Jacques Genin, not Ph.D., but Ch.D.
Presentation 4.2 / 5
plain pallets studded w/ medallion bijoux; pretty unassuming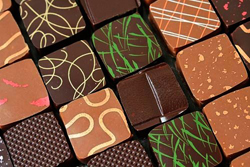 Aromas 4.7 / 5
pro chocolate
Textures/Melt 9.4 / 10
| | |
| --- | --- |
| Shells: | thin; some paper thin; others gossamer thin |
| Centers: | substantial mass / impossibly light flavors |
Flavor 47.8 / 50
highly integrated & harmonized articulation along both vertical & horizontal axes (as of late leaning a little forward & more delineated - compared to before - while still perpetually keeping the heavens in balance); the super heights among all the high points: Fennel Noir; Hazelnut both outsized flavor in inverse proportion to the size of the pieces
Quality 29.2 / 30
The Wonder One: extra-fine & extra-dimensional; melts in your mind. Nothing whimsical or extraneous, no stunting going on. Just perfection in ratios; stylishly but precisely proportioned.
Selections
| | |
| --- | --- |
| Couverture: | various (& generally quite tannic) |
Praline Amande Noir - thick gold swerving lines the design over lightly disguised almond; all-so-French subtle crisps; a knock of cocoa at the back demonstrates deft lateral & vertical motion
Grapefruit – red & white lashes scored across the top to the lightest acid wash running in a pool of floral fragrance that tops out in major scale cacáo w/ a backwash of citrus at the tail; double deft
Vanille Lait – scored w/ beige lashes; inner migration of vanilla along Milk Chocolate exterior, speckled w/ tiny flashes of spice bits; cocoa then subsumed by emulsions of froth & the lifestyles of the rich & creamy; subtle, soft & sumptuous all going to the vanishing point... together
Tonka – branching Oriental brush strokes; another masterpiece of light & foreshadowing; tonka exterior to, but never excluding, cacao; a dance w/ upward thrust from the infused flush & a circular chocolate twirl w/ stamina before the final swoon
Nature Noir - thin gold swerving lines atop the calm, meditative but indistinct
Fennel Noir - dark bas relief; tantalizing trickster reveals itself only late on the upsurge while cocoa keeps constant; a tremendous shimmer to crescendo the high point & hot spot of perhaps the entire collection
Framboise Noir - red speckled; very true to form, character, & depth; so seamlessly smooth it seems undifferentiated in its greatness
Cinnamon - dimpled waffle pattern; clear, concise & conservative
Laits – reserved coffee, vanilla, & orange sophisticrats
Gianduja - hazelnuts perhaps backed in almonds; among the most viscous (still soft by any measure); rich saturated nut oil met by equally powerful cacáo in a tremendous stand-off
Caramel - no chocolate just caramel studded with an almond bit for hitherto unimagined bend & curve to butterscotch deep in the brain