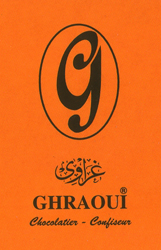 Impact
Chocolate... Western decadence, perpetrated by infidels & pagans to corrupt the faithful. Now slowly infiltrating & subverting along the silk & opium routes.

Touting themselves as the 1st chocolate company in the Levant, maybe the Ghraoui clan represents the last descendents of Paul's trip to Damascus, lone survivors of what was once a thriving Christian community in Syria. If so, they ought to understand things change (somewhat); the God, Glory, & Gold of the Crusades are over - it's Jihad time, baby.

Thankfully, none of the pieces bear names to cause any knee-trembling awe like 'Mohammed's Delight' or the 'Prophet's Paradise' – so no fatwahs need be issued by the ulema. Nor burning riots against, or prison sentences with 40 lashes for, its makers. And Dept of Homeland Security has nothing to worry about this being a foil for some ulterior motive. Ghraoui does justice to the craft (but could benefit from procuring better couverture & abandoning vanillin for the real variety). As is, a jamat circle of chocolate taking a different tact & a welcome approach in bringing diversity to what too often reeks of SOS in the world of boxed chocolate.
Presentation 3.4 / 5
cleverly & efficiently packaged as a sleeper cell to pass Int'l / WTO standards
Aromas 1.1 / 5
hard to convey since the hadith's strictures on hijab appear to be in effect: almost all pieces wrapped in foil, tucked on pleated-paper cups, sitting in a box; very feminine, burqa-like treatment over the shalwar kameez in the purdah; what can be detected thru the layers is peanut, aluminum, cardboard, & curiously, shoe-bomber leather
Textures/Melt 6.3 / 10
| | |
| --- | --- |
| Shells: | texture-wise, a non-factor |
| Centers: | firm, some even tough |
Flavor 37.8 / 50
predominantly low-sugar, judicious & well-balanced use of ingredients, except chocolate often goes MIA
Quality 23 / 30
A welcome regional approach that has something to say: mix-ins are direct & unadulterated but sub-standard basic cocoa + vanillin detract from a line staking out an otherwise clean position away from overly-refined Western confines of smooth tastes & textures.
Selections
Croquet – 3 whole hazelnuts enrobed in timid Milk Choc so that the act of chewing produces praliné; ingenious - getting customers to do the work
Harmony – pistachio meal, golden raisin, & whole walnut encased in Dark Choc; lives up to its name, very lightly sweetened, but where's the chocolate?
Gianduja – stiff & un-pliable; malt hit followed by subtle hazelnut employed as a filbert-condiment in Milk Choc; different & good tact on an old standard
Caramel Noix – glowering cube of firm caramel & Dark Choc; again, combination of vanillin, & both cocoa + milk powder generate malt ball FXs
Chestnut – revealing piece; nothing but Dark over Milk Chocolate & the lackluster couverture in full view (as well as dirty machinery... as evidence of peanut crept into the mix)
Orange Peel – exactly as advertised; vibrant, direct fruit virtually unmediated
Peanut – in a peanut mold, laced w/ caramel; Snickers in Arabic; excellent