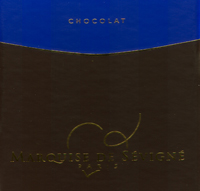 Impact
The French are a roundly feminized culture: Joan d'Arc, Charlotte Corday, Impressionism. What's existentialism & Sartre's Being & Nothingness but philosophical post-partum depression, or Bernard-Henri Lévy but Simone Weil in a pants suit? Rodin's Thinker, barely a man of action striking a WC pose, but his Kiss is. Named after Marie de Rabutin-Chantal (la marquise de Sévigné – 1626-96), famous for writing letters to her daughter describing her mid-level sybaritic sycophancy around the court of Louis XIV. Seems the marquise had a hard time making up her mind about chocolate, thinking it the progenitor of much that was good & evil in her profligate life; responsible for the births of black-colored devils to white women (hmmm), then credited it with her higher powers - "That's what I like about: it acts according to my intention". If this line is any kind of descendant, hers wasn't necessarily bad, just commercial comme ci comme blasé.
Presentation 4.2 / 5
Int'l style
Aromas 3.8 / 5
wafers & nuts
Textures/Melt 8 / 10
| | |
| --- | --- |
| Shells: | semi-thin |
| Centers: | Euroglide smooth |
Flavor 37.3 / 50
convincingly dutched & straight-up, going right for the middle of the market
Quality 23.7 / 30
Mass premium; decent cocoa mass that's about as premium as an industrial giant gets.
Selections
ASSORTMEN TS
Amandes Cacaotees – industrial glue gives way to soft praline enrobed around roasted almond; snack addicts
Gianduja Praline – Milk Choc enrobed in Dark; deceptively simple / true
Palet d'Or – where cream, cocoa tannins & seemingly Dutched powder plot together in a dusted cherry conspiracy
Dark Caramel – actual gold powder tops an air-light cream-caramel; strikes w/ metal-firmness on center-point chocolate to finish
Almond – caramel marzipan, of sorts; alluringly sly Dark
Milk Caramel – candy store glucose fodder
Pecan – simulated maple syrup drenches Milk Choc base

BARS (big enough to call tables)
Gianduja a la Feuilletine – crunchy "pancake" obstructs hazelnut butter cream that lingers wax at the back; crowd-getter
Chocolat Noir (70%) – veritable brown henna; clean break & snap; mid-tannin penetration; travels from dried herb base notes to quick berry rolled over nut... finishes thru to coffee; a Bonaparte
Chocolat Noir au Café (70%) – gorgeous ebony; Kona kick on the inhale; super clear break; ironically sweeter than its plain Chocolat Noir sib, almost near-perfect pitch, w/ a halo of ripe fruit wrapped about coffee nibs that infuse back into chocolate