Impact
PRELIMINARY RATING PENDING COMPLETE REVIEW
Life is fleeting; therefore, only the best. Luxotica... that's the reason for Paul deBondt. Like Bo Diddley rockin' heaven's door, 500% more man on the strength of a woman working with him – Cecilia Jacobelli. They're on the cacáo-gods squad, driving a Lamborghini Diablo with all the aura of a tribe that multiples into a masscult. Sheer involuntary rapture.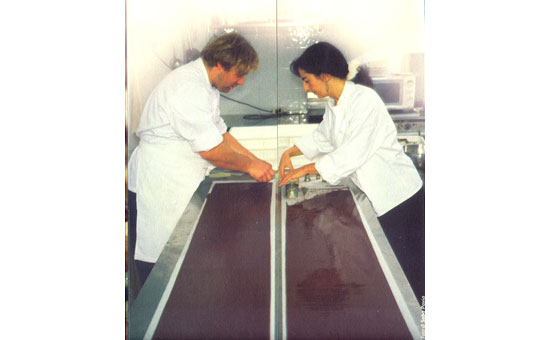 Presentation 4.4 / 5
little mean-looking machines
Aromas 4.6 / 5
thick-addled Olde Worlde jellies, honeys, & forest flora but a li'l cocoa-shy
Textures/Melt 9.3 / 10
| | |
| --- | --- |
| Shells: | |
| Centers: | generally fluid (at times imperceptible), so much flow you can swim in it |
Flavor 48.7 / 50
daring complex-city; multi-structured; unusual combines of agile weight (crisp notes hit w/ rich attack) of impassioned engineering; ambrosial thru & thru
Quality 29.1 / 30
Breaks the box / obliterates the spot. Topline; special; rare & well-done. Quality apparently non-negotiable: meticulously exacting standards from the selection of ingredients to their implementation. Among the few to deliver on branding hype, in deBondt's case 'Cioccolato Originale'. Even if you accept that practically everything has already been invented, they're still an originator, in another dimension with their own bag of tricks that all link up.
Selections
| | |
| --- | --- |
| Couverture: | Classified (but it's nearby) |
Ben Ryé #1 - the current rage of enophiles has them masturbating their taste-buds... an amber-colored Zibibbo grape variety from the Donnafugata vinyards grown on the wind-swept isle of Pantalleria, hence the name Ben Ryé which is Arabic for "son of a wind", presented here as a son of a bitch – it's that good; Dark on a tightly fortified, hot 'n dry alcoholic acidity, matched to nearly a marzipan interior texture of strong concentration &, more significantly, the vine interscoping cacáo for deep integration / equilibrium
Ben Ryé #2 - the above Rye #1 is the masculine cocktail whereas this feminine one leans more, to paraphrase that inveterate pub-crawler Chris Hitchens, "on cream, fruit juices & crème de this-'n-that