Impact
'Criminally Delicious' because a) terms like that & 'delectable' are on
the C-spot™ Banned Words List
, & b) to think that 2 bohemian brothers are ripping this stuff in an apt kitchen, using equipment straight out of the cupboards, indicts about 75% of the known chocolate universe, most of whom are stroking their own egos wishing to be glimmering superstars making sludge half this good.
| | |
| --- | --- |
| Color: | burnt scarlet brown |
| Surface: | |
| Temper: | |
| Snap: | once again Mast Bros bring the snap... on the mark for an 81% - strong & sharp; finely sanded cleave w/ a salt-mine opening or two |
Aroma 8 / 10
roasted coffee / toasted-cocoa burned right into the salt board -> quelled in high butter -> mulberry & sapote on the rubdown
Mouthfeel 12.1 / 15
| | |
| --- | --- |
| Texture: | a little seized |
| Melt: | time-consuming |
Flavor 43.6 / 50
fleur de sel drawing-out before accenting then magnifying in-bread chocolate -> sugar tweaks soften an already delicate salt to a mamey sapote tapenade -> becomes thick spread of olive-like tannins expressed of... just when the body appears dead & salted away... unforeseen blackberry -> ocean minerals lap in - this heavy sauce is boss on bread 'n sweet-butter cream w/ extremely light violet rays -> backcross to black fruits (olive technically one of them + royal mulberry) -> swirls away chocolate spray on sea moss; cinnamon in the back straits
Quality 18.2 / 20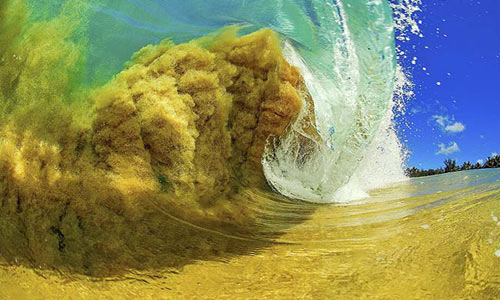 (photo by Clark Little)
Contrasting surf 'n turf really gets the most out of 18 or 19% sugar, together with added cacáo-butter weight, aids in subduing the undying force of cacáo amplied thru sea-salt. The synergy & balance here demonstrate the Bros are culinary twins who thrive on broader canvases with more components, a reason why their Flavored bars often excel over their
origin
&
straight chocolate blends
. By bringing a different tack quite apart from classically-trained chefs or kitchen wizards on TV, the Bros obliterate the course. Yeah, there are plenty of Fleur de Sel bars on the market but none with the G-forces like this, at 81%... unafraid to step out onto the high-wire over the falls... walkers on a bold renegade edge framed in death by that unshielded roast within an eyelash of this bar's life (even if it's a necessity, it's still a judicious move), mischieviously defying the elements. Zero F.U.D.
Some hard concentration going on here. And they're just getting started.