Impact
Man material coupled to a little feminine tease at the front so there's no in-your-face super-macho belligerence; just 'mantastic'. This bar is near genius.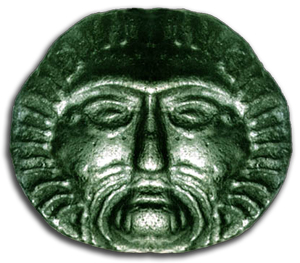 Apotequil - the Incan deity of thunder
Appearance 4.8 / 5
glamazon
| | |
| --- | --- |
| Color: | true brown w/ orange blush |
| Surface: | beauty bar |
| Temper: | matte |
| Snap: | a cracker; finely sanded edge |
Aroma 8.5 / 10
triple layer, toned-back & rare: fruit soursop / balsamic / roasted woods-ear mushroom... all twined in olive vines -> aerosal sex + patchouli / frankincense
Mouthfeel 13.1 / 15
| | |
| --- | --- |
| Texture: | smoove, easy-going angle of refraction against the taste-buds |
| Melt: | fast tempo; fluid... prehensile-strength astringency though |
Flavor 45.7 / 50
Apotequil... said to create lightning by striking the clouds w/ his hammer & this swings right out on strafing citrus -> juices to orange sweet-spot, then puckers up gauva -> beefy underlying chocolate-sirloin accordions thru the length, smoked, then grilled, a force multiplier to portobello -> black olive -> allspice & sechuan soul-sauce for good measure -> bottom aromatics fume wildly w/ mild bitter edge as acids subside in simmering soursop ->
De Vries
-like balsam -> woods-ear -> minor soil-substrate -> rear walnut brownie completes quik but consumate evolution
Quality 18.8 / 20
Reputedly a
Venezuela
Porcelana grafted onto
"Trinitario"
rootstock then transplanted to Peru... a mouthful for sure that presents a debatable question: is it the genetics or the terra most influencing its divergence from the
classic Porcelana
profile? While the opening packet shows some effect of a "Trinitario", it's subsidiary to
Peruvian characteristics
exhibited both here in this bar & elsewhere (most potently in
Domori's 100%
). But Coppeneur consciously treats this in a 'fake it to make it' varietally-correct but somewhat territorially alien (in contrast to
Bonnat's
) thru deeper roasting & conching – in line with its house traits - driving off the plenary volatiles typically found in Peruvian cacáo, without abandoning acidity altogether (difficult to achieve even if it wanted to, given the origin); well controlled & harmonized to all that muscular beefstock frame, though sacrificing length & persisitence.
Where
Bonnat's Apotequil
(again, named after the Inca deity of lightning) weighs in 3 degrees heavier at 75% (cacáo-content can be deceptive however), basically a chocolate take on 'Welcome to the Jungle' with Slash & Axl just ripping it in a kind of 'let go & let God', Coppeneur by comparison brings the lightning without much thunder, quieter & unsurprisingly more refined, but meatier nonetheless. The difference between, say, prime rib vs. rump roast.
This demonstrates, especially in side-by-side comparisons, the meticulous precision with which
Coppeneur
now approaches practically every origin &, seemingly, every single bean, encapsulating its meteoric rise at or very near the top of the chocolate charts.
ING: cocoa mass, cacáo butter, sugar; CBS (Cocoa-Butter-Sugar ratio) ~2:1:1
Reviewed Spring 2010