Impact
Goes non-native & ushers in the ambiguous images of symbolist Odilon Redon...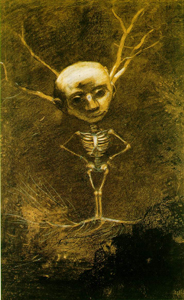 Spirit of the Forest (1880)
show more »
show less «
| | |
| --- | --- |
| Color: | fuschia brown |
| Surface: | best of Kallari: minor chipping, overhang drop, but generally good & well vibrated |
| Temper: | crushed vinyl matte |
| Snap: | sharp as castanets; decent integrity along the break wall though w/ latent blooming |
Aroma 8 / 10
receding forest: cocoa dust, tea, grass, & straw beneath big hardwoods -> opens to corn, cassava, & coffee -> rubdown shows blackberry then chocolate-jasmine + juneberry blossom farther downwind
Mouthfeel 12.1 / 15
| | |
| --- | --- |
| Texture: | initially resistent / unpliable, followed on by quick release |
| Melt: | even but quite astringent (typical of Ecuador Nacional) |
Flavor 38.7 / 50
rips open chocolate coriander -> swallows up fudge -> loganberry vanilla -> blackberry -> vanilla surging / blackberry sagging -> moves toward more neutral though dry, stringent cocoa & charcoal as numbing ibuprofen found in the
85
come fore w/o entirely blotting out the fruits (especially a return to loganberry) while denying other potential aromatics glimpsed in the scent -> palm & plantain ->
Criollo
cream in the aft-shaft along w/ more vanilla; catechins of herbal tea... the ever lasting FXs
Quality 15.6 / 20
Apparently the Kichwa / El Salinerito (the probable Ecuadorian manufacturer) really, really luv vanilla. Either that or in the brand marketing wisdom of their gringo taskmasters, the road to riches is paved with it.
Tuned way too vanilla-driven (crude but not all that rude), then lacks stamina caused in part by an anemic CBS (Cacáo Mass / Butter / Sugar ratio) of roughly1:3:2, a configuration that fails this bar, as 'rough' becomes the stuff once it progresses past those fruit hedonics up front which are spectacularly highlighted in its nearest sibling – the stellar
75
- deteriorating at the mid-palate, though the bean recovers enough poise to avoid complete disintegration.
This all points up that first impressions must be viewed very tenuously with Kallari, a newcomer whose consistency wildly varies in its initial releases & will take time to develop. Still, the co-op husbands a good stand of trees overall, & this vintage presents a crop that bodes well for future harvests.
ING: cocoa mass, sugar, cacáo butter, whole vanilla
Reviewed 9/2/09