Impact
The Silver Anniversary of the bar that restarted it all. In the 25 years since the release of
Guanaja
, both the Wall & the World Trade Center have fallen. One Hussein has disappeared (in Iraq) while another & better has reappeared (in Barack). Meanwhile,
Valrhona
has kept with the mission.
If the original represented the chocolate equivalent of splitting the atom, this scatters the electrons like the so many
Nibs
that have been added, only to recall them in a recombinant fusion reactor.
Same great taste / same great dynamics; just different.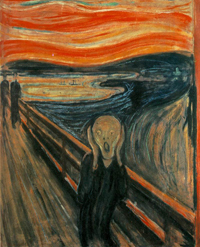 Rocks the mouth to Munch's
Scream
-- those hallucinatory skies behind the pumped-up face in angst based on what he witnessed years before.
Voltaire said 'madness is to think of too many things in succession too fast, or of 1 thing too exclusively' (very apt to chocolate).
This does both in a maddening way. The difference between an A-bomb & the 'N' bomb. No, not the 'N' word, Funkadelics; nor End Times, Revivalists... but 'N' for Nucleated
Nibs
.
A perennial classic worthy of listening to Rubenstein's recording of Chopin
Nocturnes
on which exotic woods & pungent lacquer from his grand piano can virtually be ingested.
A bar that asks the tough questions &, equally important, answers them.
| | |
| --- | --- |
| Color: | mysterious ebony |
| Surface: | Val is nothing if not cosmeticlly-correct, incl extra-planetary backside pelted w/ Nibs |
| Temper: | semi-sheen & shimmer |
| Snap: | crunchzilla |
Aroma 8.6 / 10
a wind-waker from dense forest of big timber: oak, mahogany, ceibo, slippery elm bark,
cacáo
, balata, palm coconut... pick any you want save for deadwood -> black currants & raisins bound up in leather strips, & coffee grains + a flick of ash in hommage to young Ceren (see the historical timeline around 590CE in
The Concise History of Cacáo: The Nibs of the Matter
; in this instance, pretty well roasted by
Valrhona
standards) -> eventually opens & stretches out an almond rolled in soft moss
Mouthfeel 13.7 / 15
| | |
| --- | --- |
| Texture: | emits a very satisfying sound, same as the Snap just louder in the inner chamber... an exfoliator... Crunchzilla stomping over the T-buds w/ loofa-like slippers on & speeds up to anxiety-inducing levels as Flavor gets closer / stronger |
| Melt: | wild contrast of shards & shrapnel around a chewable fleshly vice |
Flavor 45.9 / 50
tracks Aroma closely: fires off pure
Dark
choc... thru & true, sugar cane &
cacáo strain
going 1-on-1, gram for gram -> coffee grinds it to a lacerating cocoa mix -> flushes in a black currant onrush -> tandems to chewy gooey raisins dominating the length... nearly stuck on the teeth... until nibs work their way around the goop, bringing almonds & hazelnuts along to free the Melt, the full effect slamming into the trees, a wall of wood (especially petitgrain & immortelle [orange blossom]) -> riberry & black cherry the casualties -> subsoil coffee pit + orange pekoe 'n coriander w/ added tang from soncoya, granadilla, & satsuma... the longer this goes on the more important it becomes -> hits bottom wafers... to make coffee-cake + mud pie for ultimate chocolate sludge
Quality 18.5 / 20
Does not disappoint; primped up then pimped out & just crushes it.
A big bar that lives up to the legacy.
Those who hate
Val's
stock black-fruited goo will despise this pure haterade even more seeing how the goop tastes scraped off the bottom of a coffee pot buried somewhere underground.
A chocolate Rube Goldberg device; exceedingly complicated but highly compatible (if somewhat narrow) blend of a dozen or so beans that performs a very simple task when it gets right down to it... but in an incredibly indirect & convoluted way: just the all-emcompassing power of
cacáo
.
Nibs
bring it with mass, depth, & heat to the comparatively lighter bodied / diffuse
Guanaja of the past
, turning the already masculine & muscular into the Jurassic -– & well-proportioned. A seemingly multi-variegated roast calibrated by origin & seed type, pulled together & unified in a voluptuous conche with bite (due, again, to those exfoliating Nibs) proving once more that Valrhona can still kick some tongue in the best tradition of the grand old bitches.
ING:
cocoa mass, sugar, nibs (8%), cacáo butter, soy lecithin, vanilla;
CBS
ratio (Cocoa Mass:: Butter:: Sugar) ~2:3:2
Reviewed Autumn 2009