Impact
Las Acacias Estate cultivates what insiders proclaim to be as close as
Guatemala
currently gets to "pure"
Criollo
(i.e., moderately hybridized). It sits right in the crossroads of the great ancient cacáo groves springing around Suchitepéquez whose tendrils stretched all the way north to
Xoconochco
(Soconusco)
Mexico
& Sonsonate El Salvador down south.
Among the towns people there,
oratorios
are altars for sacred ceremonies at which
cacáo
typically has a seat.
Based upon these remains in this bar, the ancestors clearly took the keys to the kingdom of the best Criollo with them on their journey thru the underworld - thereby vacating cacáo's holy chair (the equivalent of 'Elvis has left the building') - safeguarding the treasure until descendants can re-create the lost ways.
That day may soon be approaching, however, for this is a better chocolate than it actually tastes... one that grows on the tongue from an archaic memory.
A pseudo-
refresco de pocha
(pocha for 'pod') in bar form... that historically prohibited
guaro clandestino
or Guatemala's version of moonshine / stump juice – an outlaw alcohol made from fermented cacáo.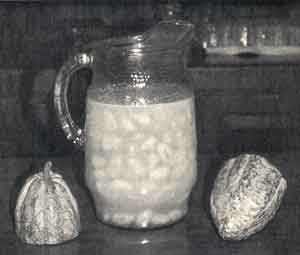 Cacáo seeds can be gleaned in this pitcher of refresco de pocha (Mazatenango, Guatemala; courtesy Cameron McNeil)
| | |
| --- | --- |
| Color: | agouti-brown / faintly 2-tone (some butter separation) |
| Surface: | stunning mold (glyphs in a rotating cylinder appears as Metropolis gear works; mechanical & masculine / simultaneously Mayan & modern); backwash ripples; otherwise smooth enough to read fingerprints (MOST WANTED: 'Cheebs' from Danta Chocolate) |
| Temper: | strangely absorbent reflection in a lunar eclipse of the sun during the vernal equinox |
| Snap: | too beautiful to break... then just whumps the eardrums |
Aroma 8.7 / 10
densely volcanic, enough to force even Mayan Tik'al ruler Yax Nuun Ayiin I to walk it back some (aka 'Curl Snout'; No. 15 in the dynastic succession who reigned from 379-404[?] & son of Teotihuacán Lord Spearthrower Owl at the height of that kingdom's influence), trapping in his wake the balsamic (wood & grape) -> olives (mostly green) & copal -> hickory-smoked sausage (where's the acacia-smoked sausage?)... all layered thick & heavy on warm leather + tar (w/o the nicotine) -> xate-palm leaf-cover
Mouthfeel 10.8 / 15
| | |
| --- | --- |
| Texture: | a hard glob-job; unforgiving & fractious |
| Melt: | anti-cruise control: stop 'n go / fits & starts |
Flavor 42.1 / 50
sweet sheets of dark cocoa turn into a tannic-panic attack -> fruits (plums [incl 'hog plum' jocote], ground cherry, & the sweet purple berry jaltomato) overtake then bury underlying allspice in a gulley w/o completely leaving behind baseline chocolate -> trips up on some dirt parcels -> vanilla smooves (smooth-move) to the rescue (partially) -> fleeing caramel -> juicy chocouture (for winos... the profile dilute in an ocean of fine watermelon though still feral) joined by rising minerality (generally classified as a red 'Cab') -> stringent outtake re-makes allspice for a cobanero-like finish
Quality 15.4 / 20
Big & bold as well as outsized & uncontained.
For starters, vexing lecithin wreaking Textural havoc as with
Danta's White Choc
.
Then, good earth (re:
terra
) embedded in these beans treated to a full 5-6 day ferment but
genetics
align haphazardly & the flavor, while far from random, releases in waves that merge without ever fully integrating. Instead, they lock on to each other & hold in rather discrete pockets until the very end at that juicy melt-thru.
Formulation feels about right (CBS - Cocoa Mass/Butter/Sugar ratio - ~3:2:5 & favors a little more cocoa mass). Indeed that little put-back of added butter prevents uncoordinated awkwardness from developing into a full total loss of control.
Danta's
penchant for low & slow roast (just enough to blow the husk off but insufficient to optimize tannic structure) paradoxically backfires. Sticking to his guns warrants using slightly higher heat & friction in the conche to complete this chocolate, which would subdue some of the hi-fruit action, bring up the bottom some, & meld the components to make the overall package more nimble / less austere.
As is, the Universal machine employed here does almost everything - hard initial grind (4 hours), locks down the tension on blades, then releases it nearly limp against the drum - except 'finish' the chocolate.
ING:
cocoa mass, sugar, cacáo butter, vanilla bean, soy lecithin
Reviewed Autumn 2010