Impact
Where practically every human frailty & vulnerability was once rolled into a single poignant life (e.g., Billie Holliday; Tina Turner; Sade), this later crop of baby divas appears a fractured & diversified lot. Consensual abuse (Rihanna); spa prescriptions & rehab (Amy Winehouse); & permanent juvenalia (Brittany). Meanwhile, senior citizen of loins 'n groins (Madonna) now expresses herself with professionally mature ambition (i.e., standard stock). Ditto evermore the heart gusher (Beyoncé).
Enter that nebbish androgyne wonder who dropped the goo-goo from ga-ga. Electrically eclectic as flexi-sex (think Queen's Freddie Mercury), a chameleon (re: Bowie) & seductively grotesque (Marilyn 'screw-eyed' Manson), das Haus of Lady Gaga actually plays an instrument, vocalizes on tracks, & possesses a wicked mind bend of evil genius. Speaking in Pentacostal-like tongues of several pigeon languages (basically Pink on crystal meth [oh, she's already on it?] hooked up with Hitchcock's psychoses), LG understands that monsters cure heartaches by eating them in a downward love spiral.
This beast of a feast day bar will devour yours with all the gusto of the sex revolution in full swing & steam back in '69 – the pill, free-love, plus Masters & Johnson - when many re-discovered that the clitoris wasn't some archeological ruin in ancient Greece.
Unsheathed, it gives
Peru
more than just a name of a tourist destination called
Machu Picchu
. A chocolate that opens up to a nakedly frontal sedition of the senses & a felicity from twin Freudian particulars of
lieben und arbeiten
(love & work) – then swings on a pendulum made by Foucault getting a blowjob atop a Harley from a mad female stat who's just read Richard Powers' latest novel
Generosity
or, better yet, sniffed the
toiletpaper.com
collage of schadenfreude-tinged links & bits arranged as clustered 'fragloids' (word just scissored together in neoteric frenzy but, fuck it, apropos amid juxtaposition of stink 'n solemnity) to make the eater laugh even harder than a publicly ignominious meltdown such as that 'tit for tat' (RE: bosom-ink) between a stripper siren & an actress. If any of this sounds cryptic, ask cycling monster Jesse James to explain.
In short, one just wants to snort & swallow this cocoa as if so many Nazca lines of coca. (Hey, Herr Zotter, might that other white powder be healthier than sugar, jah?).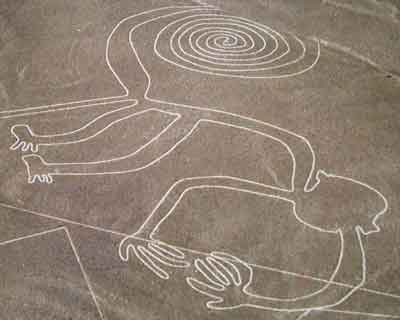 One of many mysterious geoglyphs at Nazca in southern Peru
| | |
| --- | --- |
| Color: | bleary brown w/ magenta tint |
| Surface: | one of the few barsmiths whose back looks more pristine than the fronts |
| Temper: | mold design creates alternating waves of luminous ripples |
| Snap: | strange soggy acoustics (minimal conche indeed); cake wall for a break line |
Aroma 8.4 / 10
wild signature: welcome to the jungle of hallucinogenically tranquil overgrowth & under bush... lost pre-GPS, no orientation or referents, just DMT plants like sameruca (P. viridis)... until thick cedar sap bounces off a rubber plant & hits w/ the sting of smelling salts + pink peppercorn inside a cocoa-plunger flushing coast-to-coast on the nose -> yacon & pepino act as a medivac -- but really now, no way out so, here, take this yerba maté
Mouthfeel 14.6 / 15
| | |
| --- | --- |
| Texture: | voluptuous; terrifically round body |
| Melt: | primed as professional call girl schooled in the Ivy League |
Flavor 48 / 50
chocolate blow right thru the nostrils w/ a tingling tinge of coca + pitomba –> drizzled honey & lucuma -> soft citrus-bark (gorgeous rare combine in its sublimity) -> fresh breadfruit-cocoa pulled right out of the toaster oven... stretches w/ a half-life seemingly of weeks... -> short bitter bite & goodnight; resident vanilla the aftermath
Quality 19.5 / 20
A racy thoroughbred, no doubt about it, but a 16 hour conche? Could it be? Is Zotter on some kind of metric time clock? Such as miles to kilometres equals 1.6... for 16 hours measures inordinately short in the new era of craft chocolate where 60 to 80 approaches the norm. Obviously, not all conches & conching are the same. At that length, the conche temp must be high, & the churn rate great, because the roast in here stays on the low side & the Texture wraps the mouth with lapping love. Then, again, Zooter employs a 5-fold rolling mill on the assembly to its maximus.
Unlike any
Peru
ever to come to market, so out of character for this origin that it fools of a blended decoction from elsewhere. If genuine, Josef Zotter must be counted among the handful conducting due diligence in bean selection; a true headhunter or, in cacáo's case, a podhunter because he knows his seeds.
The region around Satipo-Pangoa sits pretty far out there on its own. Due east of Lima in some considerable raw jungle environs; an area that never fully fell under the influence of the int'l sphere with its numerous agencies, & their various agricultural programs – most promoting some type of clonal generic hybrids.
Therefore, according to Zotter, the old real "Criollo" have the forest to themselves. By Criollo he means, presumably, "native" as in ancient indigenous varieties deeply rooted in the upper
Amazon
where all
cacáo
originally came from, free of outside introductions / interventions, rather than the more common usage today of
Criollo
associated with
pre-Columbian Mesoamerica
or even latter day
Venezuela
.
Why, then, does he go on to state that under cover of the forest canopy "one finds the specially marked trees... so often mixed with
Forasteros
or
Trinitarios
. But here we experience a pure Criollo"?
A confusing jumble to say the least.
If only Criollo grows there & have the forest to themselves, marking trees would seem unnecessary. If on the other hand these "specially marked trees" distinguish them from other varieties nearby ("Forastero" &/or "Trinitario") then purity would be impossible given cacáo's rampant ability to cross.
Also curious, how growers "sort" this "Criollo" from the mixed plant culture in which it thrives "where the rainforest & the cacao garden meet each other".
All in all, a slippery-sliding mix of hope & contradiction, perhaps confounded thru a flawed translation: Spanish growers into a German chocolate maker into this English review.
Whatever its precise nature, this "Criollo" is laughably intoxicating. Maybe Zotter stands on firm ground after all; maybe the place, indeed, where the Mayans sourced their Criollo to naturally select certain traits to suit their tastes.
No real fruit or flower buzz which mitigates against a
Contamana /Scavina
genotype. Just surreal levels of baseline cocoa for enormously high CQ (Chocolate Quotient free of any interfering nuances), cubed so square & exponentially boosted by raw cane sugar to suggest superfine
Amelonado
minus its usual belligerence. Salt, barely detectable at horizon's edge, then provides the fuel for phenomenal staying power -- albeit a limited progression due to non-complexity.
Outrageously simple / supremely good, a bar that leapfrogs the competition.
And the chocolate heavens tremble again for their spirits have awakened.
ING:
cocoa mass, cacáo butter, raw cane sugar, salt
Reviewed Summer 2010