Impact
A bar that starts out straight, only to hang upside down, mimicking many cacáo pods or, better still, the pink-legged
graveteiro
("twig-gatherer";
Acrobatornis fonsecai
) who spends most of its time in the forest canopy, upside-down, foraging for insects.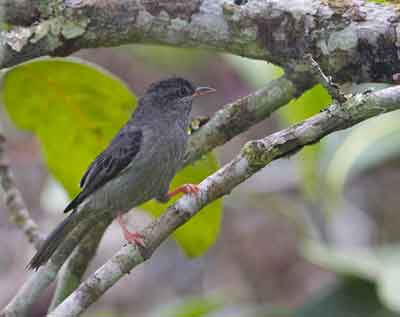 | | |
| --- | --- |
| Color: | opaque umber |
| Surface: | beyond 'release-marks'... stuck to the mold leaving some behind |
| Temper: | resinous wax |
| Snap: | pure crack; tough interior |
Aroma 8.8 / 10
a mighty sweat box of big leather 'n dyewood -> silt from the river bottom -> alluvial soils producing black olive tapenade & salted catfish -> all pierced by tang of açai -> steams off black leather-backed coffee
Mouthfeel 13.1 / 15
| | |
| --- | --- |
| Texture: | firm butter turns a bit rubbery |
| Melt: | patient w/ good body weight |
Flavor 40.3 / 50
Amazon grape (Pourouma cecropiaefolia) dodging in & around dark mocha crawling w/ a bug or two -> wintergreen -> alights sweet acid / spry fruit (caza & gooseberry) -> cocoa butter melts thru lightening the load -> opening tannins recede in favor of açai + capuaçu w/ coffee backstop -> flushes out mild feijoa (especially its strawberry-like component)
Quality 15.7 / 20
A chocolate that grows on the palate & in the memory... more so in the aftermath than during. Imprecise coordinates on its location but presumably nowhere too far upriver for this diversity-loving organic-cacao to play by the shade trees, alongside
S-B's Tomé-Açu
, as both stand in a similar fruit packet.
A lengthy conche, by
Zotter
standards (30 to 35 hours), teams up with a low roast (135ºC/275ºF).
Firm, almost cold, butter allows cocoa tannins to dominate the opening frames until meltdown, when it carries those fruits forward, inverting the profile with bright highs hanging low & wet on the tongue, nearly uncontained, save for a 30% sugaring which holds them at bay, as the core chocolate dissipates. Salt in the formulation hardly matters other than to work against the cocoa rather than draw it out.
Cohesion then suffers somewhat, ditto definition, creating fractional disharmony. Nothing horrific; just a bit aggressive.
ING:
cocoa mass, raw cane sugar, cacáo butter, salt
Reviewed Autumn 2010