Impact
What smells of Albrecht Dürer woodcuts, then 'germanates' Klimt's
Fruit Trees
(stunning), ends up twisting into a funny Heinz Anger at the still-point of transport when he hears Dorothy Parker somewhere -- who never tires however many decades after her death -- saying something in his head about
'I like to have a shot of choco-rum please / 2 at the very most / After 3 I'm under the table / After 4 I'm under the host'
.
Spellbound.
No doubt
Josef Zotter
would show deference by pouring another of this bar's liquor into that mold.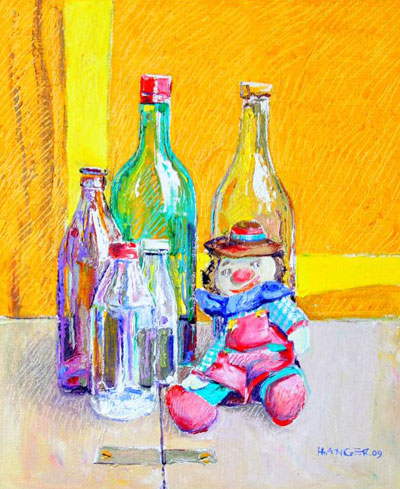 Chocolate Milk, Soda & Spirits?
(Still Life with Clown Doll by Heinz Anger, 2009)
| | |
| --- | --- |
| Color: | cool side of brown (toward violet) |
| Surface: | subterranean voids |
| Temper: | Zotter's signature shimmer |
| Snap: | buttoned down; pinholes on the break line expose those sub-surface voids |
Aroma 7.9 / 10
distant & impersonal: cocoa powder + wood -> faint spice & golden berry -> before even realizing, it gets close & intimate, blowing smoke rings filled with trace mint & orange vapors -> airs out & bites with a barking chocolate (big wood + cocoa)
Mouthfeel 11.6 / 15
| | |
| --- | --- |
| Texture: | disjointed |
| Melt: | durable |
Flavor 48.8 / 50
rings right up on fruit: a) fresh apricot & papaya; b) black currant & pomegranate whose joint acidities conspire for c) plum-rum... holds it masterfully... over rippling chocolate -> distills dried apricot -> banana to soft-butter ending atop thin cocoa-wood laminate
Quality 19.4 / 20
So many phenomenal bars source their cacáo from the
Dominican Republic
that the island has now amassed a trophy-case of them. Add one more, & one of the best yet which places this at or near the top of the collection.
Zotter
marvels at what he witnesses in the D.R.: neatly cultivated cacáo gardens free of tree diseases leaving the cocoa bromans (tree-tenders) to devote more time to R&D.
Probably no source crosses more
cacáo types
than here. So much so that it breeds new varieties to custom fit the terrain & the climate. Naturally, the plants flourish to create a succulent fermentation.
And the Z-man, Josef Zotter, lauds the ferment. As well we should too. It fraternizes these seeds then he romances the beans with meticulous sorting (very picky) into a blue-chip chocolate.
Zotter contracted with a central processor on the ground in D.R. that interfaces between the theobromans & the
barsmith
-- Roig Agro-Cacao -- & consulted on the parameters for roasting & conching to suit this cocoa's character.
Zotter & Roig absolutely nail it in crushing it.
All of which demonstrate Herr Zotter taking a more personal or at least a more direct hand compared to the his arm's length transaction with
PNG
. And the results show just as the flavor proves.
When he declares this "a very special chocolate flavor", Zotter makes no marketing hype. No funny business here; just reverential in respect & care for the cacáo.
Sound CQ (Chocolate Quotient) but in service of the volatiles so it feels secondary, as chocolate-infused fruits rather than the other way around.
Bolivian
-like in its dark fruits except for
Caribbean
rum in & on them. Salt magnificently contains those volatiles from expressing too much exuberance so that the poise between the fruited centerpiece flanked by chocolate & a rum-like FXs verges on gymnastic.
It demystifies why Zotter, a maker of several
prior Dominican bars
, never released a
pure Dark
from there... until now: perfection takes time -- that essential ingredient in bringing all the elements together (Texture excluded; that'll require just a little more patience... & if the other ancillaries such as Appearance & Aroma were to match the Flavor, this would ascend to ultra-pinnacle status).
A chocolate that re-validates both Zotter's & the D.R.'s world-class reputations.
ING:
cocoa mass, raw cane sugar, cocoa butter, salt
Reviewed September 27, 2011