Dominikana
by
Chris & Tom / Manufactura Czekolady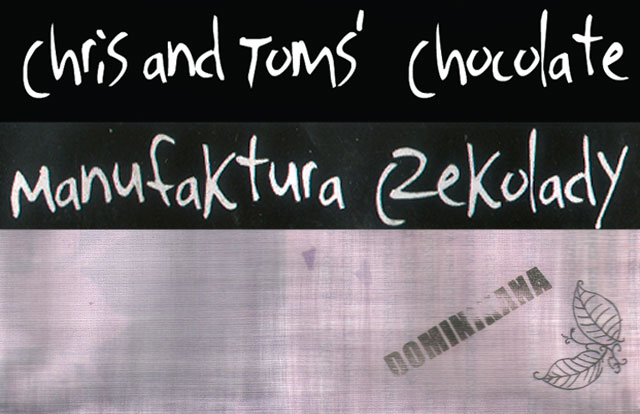 Impact
| | |
| --- | --- |
| Color: | shoe leather brown |
| Surface: | a schlub: chips, flakes, bubbles, & a missing chunk (something been gnawing on this?) |
| Temper: | reflective |
| Snap: | brittle; evenly sanded edge |
Aroma 8.6 / 10
a smoke-out: picholine olive over cigar leaf & hickory chips (+ a bit of petrol too) & a medium chocolate note; generally frutiless
Mouthfeel 11.2 / 15
| | |
| --- | --- |
| Texture: | weirding: starts out pottery shards / ends up glob & grain |
| Melt: | strange evolution of fits & stops |
Flavor 45.5 / 50
sweet-spot sapote right off the block -> brown sugar -> tamarind & fig -> mango with a parched wooded cocoa counter -> dried apricot
Quality 17.1 / 20
Betrayed by rank beans in its
Ekwador cru
, Chris & Tom find themselves in far better company here with
cacáo from The Dominican Republic
, an island which for several harvests now rates near or at the world's top in production quality. In return, the label responds in kind.
Subdued fruit. Quietly sweet & defined -- though hardly pronounced -- as every note has a nicely balanced counter, generally configured as browns against reds (figs / tamarind / cocoa vs. sapote / mango / apricot).
Clean too; very little astringency.
While nothing's out of place with flavor, indeed the bar holds true to the D.R. (relatively short & semi-shallow), the Texture is anything but.
It literally ingrains the role that conching plays in the sensory experience: relatively curtailed (30 hours) yet vigorous (hi-friction) to smooth out the volatiles while contributing a coarse mouthfeel. Quite the tradeoff, generating a contrast between Flavor & Texture at odds with one another yet works amiably well together.
This dovetails with another opposing-dynamic: strangely long melt / short flavor progression.
Overall a bit quirky... in line with Poland's national trait.
ING:
cocoa mass, sugar
Reviewed October 25, 2011