Ekwador
by
Chris & Tom / Manufactura Czekolady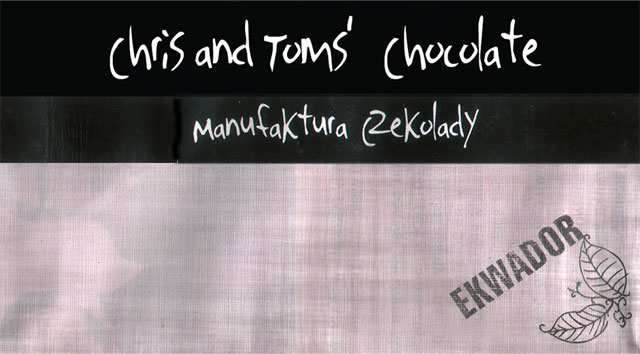 Impact
The cheap slag variety of chocolate reserved for giveaways & gifts to under-performing doormen, evil neighbors, & lesser mortals who immediately consume dead-tissue without any reluctance whatsoever -- unlike carnevoyeurs who need to autopsy them first.
God bless their souls for disposing such waste & thereby sparing monkeys, birds & other wildlife creatures -- including microorganisms classified under diseases of
cacáo
-- from having to scavenge on jungle-trash.
| | |
| --- | --- |
| Color: | dark brown |
| Surface: | smudged & scuffed |
| Temper: | lacquered |
| Snap: | on spot click-clack |
Aroma 7.1 / 10
quiet reserve in the
rainforest
at the second hour of sunlight, after the morning dew dries, the floor still damp & the tree barks slightly soft... over there by an evergreen a little passion fruits before the organized chaos in the jungle breaks out... all just a sleepy-time dream until the alarm rings &, idyll over,
CCN-51
cinnamon sounds the wake-up call
Mouthfeel 10.6 / 15
| | |
| --- | --- |
| Texture: | the lone redemption to this sad experience |
| Melt: | stringent |
Flavor 26.4 / 50
cocoa talc -> fleeing papaya with very light passion fruit back -> shifts to that tell-tale
CCN-51
dirty-cinnamon detected in the Aroma, attached here to considerable astringency that billows up a fake jasmine apparition (distilled in alcohol from a poor ferment) -> insect larva (seriously) -> una de gato -> finishes up straight talc, gypsum, & cement; green walnut the aft-length
Quality 11.7 / 20
Dependably
Ecuaboring
.
This Polish
Manufaktura Czekolady
(for 'Workshop Chocolate'), started by the duo Chris & Tom who left corporate slots in the tech industry to pursue their "dream jobs" in chocolate, attempts what amounts to a salvage mission on a bad seed to begin with, gone moldy & stale in transit. They toil in vain however as whoever brokered this sorry sack of beans to them performed a disservice, a scam really, in the very transaction by offering these up for sale in the first place.
Pure dreck in furtherance of damaging
Ecuador's
brand even more (as well as that of the already battered
CCN-51
, if that's even possible).
And a real dream-killer... the kind of stuff best fit for Dutch processing, then smeared with heavy vanilla.
ING:
cocoa mass, sugar
Reviewed October 18, 2011