FLAVOR PROFILE: weak basal cocoa with thin fruit overlay; lead & wood shavings; astringent & acidic pulp; quite bitter despite relatively high cocoa-butter content thanks to abundant polyphenols
CHARACTERISTICS: Designed for high productivity & to combat Mal del Machete wilt, a tree disease caused by the fungus Ceratocystis fimbriata. Despite perceived benefits (large pods with heavy average seed weight after only 2 years planting, yield potential & productive efficiency of 1 ton per hactare that increase to 3 tons under intensive agronomic management, + low pH), CCN-51 requires a lot of work. A day or so to harvest; 6 to 7 or more days in the fermentary due to a higher amount of mucilage that requires longer fermentation than Nacional; then comes drying… the whole process can last up to 10+ days, increasing a grower's exposure to theft in a land rife with it.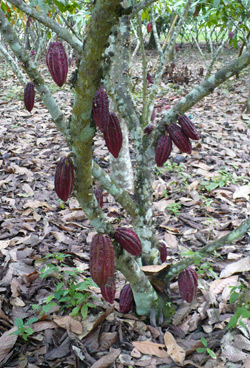 CCN-51 = Coleccion Castro Naranjal (aka Don Homero, after its inventor Homero U. Castro who worked independently in Naranjal, Ecuador on a cacáo estate aptly named "Theobroma") & 51 refers to the number of attempted crosses in the series that gave rise to it… a clone of a 3-way cross between IMC 67 / ICS 95 / O-1 in its pedigree – a seemingly attractive enough blueprint. The latter a plant Castro collected on his first trip to the Valle de los Canelos, in the Eastern part of Amazonian Ecuador (in the Province of Pastaza; beware, another Canelos grows in Morona Santiago).
The earliest report of CCN-51 in production was 1965 on Finca Sofia in the Naranjal area, south of Guayaquil owned by C. Baquerizo.
Becoming more ubiquitous thanks to a) CCN-51's incredible fertility compared to other types, hence its reputation as a 'super slut' that, b) makes it ideal for utilizing as a rootstock in crossing with other varietals & c) its growing popularity among farmers stems from being freely available in Ecuador because by the time of Castro's sudden death (late 1980's), he hadn't yet patented it. Thinning out & in some areas replacing Ecuador's stands of Nacional, a potential hazard from a conservation perspective in one of the critical centers of origin for the entire Theobroma cacao species.
A 2014 survey on the predominant ancestries for current CCN-51 populations in Ecuador, based upon the cacáo structure groups classified by Motamayor et al. (2008), are: Iquitos (45.4%), LAN 21 Criollo (22.2%), & Amelonado (21.5%). The rather significant Criollo belies the fact its gentler traits are overshadowed in this cross with Iquitos & Amelonado. The remainder is comprised of Contamana (~4%), Purús (2.5%) & Marañon (~2%). Nacional represents but 1%.
This shows how far Ecuadorian cacáo has strayed from its Nacional roots.
Rumors of new & improved varieties of CCN boasting a flavorful rainbow have yet to materialize.

Population structure analysis of cultivars CCN 51, ICS 95, IMC 67, + the 10 cacáo genetic groups re-classified by Motamayor et.al. (most of them formerly lumped together as Forastero). Admixed CCN 51 is denoted with multiple colors representing specific genetic groups, as are ICS 95 & IMC 67.