Impact
Dear C-spotters™,
In the USA, Valentine's & President's Day come together to coincide with executive competence & healthy philandering going hand-in-hand (Jefferson, FDR, JFK, Clinton).
For this holiday week, lip-syncing Emma Lazarus (best known for her
Colossus
sonnet on the pedestal of the Statue of Liberty) with the usual confections sounds like --
give me your tired huddled masses of chocolate-dipped strawberries, your flat chocolate-chip flapjacks for breakfast, the old smoochy aphrodisiacs & broken heart-shaped bonbons, your semen-white chocolate popping a dried tart cherry as well as your poor love notes penned in Bangalore for the Hallmark Greeting card company.
Romance ain't completely dead, it's just been sold. So don't buy it, revive it.
Gold is just metal. Diamonds are just rocks. The cardinal virtues – faith, hope, & love - are the building blocks for human perfection & last forever.
Instead of the tired & trite, be bold, daring & truly intimate -- give the gift of novelty.
None of you probably have halitosis or bad breath thanks to
Theobroma cacáo
, the tree from whose seeds humanity derives chocolate. But perhaps some of your family, friends, neighbors or even loved ones do.
Here's a toothpaste for them in an ode to chocolate & a nod from science.
Sure it might rank right up there with giving Mom a stick of deodorant for Mother's Day.
Consider the upside though.
Brushing the teeth with chocolate? Granted, it seems a stretch, but by extension chocolate promotes good dental check ups (see
Quality
section below).
After a tube of this, it'll be all cheek-to-cheek, nose-to-nose, lips-to-lips for a satisfyingly deep French kiss, the gateway to... well, let the incurable romantic Plato take it from here:
Every heart sings a song, incomplete, until another heart whispers back. Those who wish to sing always find a song. At the touch of a lover, everyone becomes a poet
Muahz,
the C-spot™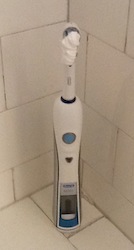 | | |
| --- | --- |
| Color: | pearly white |
| Surface: | slick |
| Temper: | polished |
| Snap: | in this corner... from Theodent on the Braun Oral B, the Great White Hope... (if it can clean the grout between those tiles, imagine what it can do to teeth) |
Aroma 7.8 / 10
same as the
Flavor
(see below)

Mouthfeel 11.4 / 15
| | |
| --- | --- |
| Texture: | thin for a paste |
| Melt: | rapid with only modest bubble structure |
Flavor 45.2 / 50
first sensation mint, specifically spearmint (neither hot nor burning, just clean 'n green) lined in subliminal lemon (almost cake frosting quality; sweet low zest) -> nicely balanced battery of sweeteners between chem & natural, all cool to the mouth (sorbitol, xylitol & stevia)
Quality 17.8 / 20
A host of medical studies tout the health benefits of
cacáo
. Everything from cardiovascular & blood pressure, to antioxidants & sharpening cognitive abilities, to wonder whether it rises to the level of a panacea in nature's apothecary.
Few however associate chocolate with dental care. Just the opposite: most people think it causes cavities. That folktale stems from the fact that sugar corrodes enamel & as chocolate's secondary (or in some cases primary) ingredient, guilt-by-association links chocolate to tooth decay. All the more reason to consume low-sugar / hi-cacaó content
Dark
chocolate.
More good news: a study emanating from Osaka, Japan found that cocoa husks (which only rarely find their way into finished chocolate) exhibit antibacterial properties & check plaque before it can wreak havoc. Furthermore, cocoa butter in chocolate coats the teeth, shielding them from the worst of bacterial onslaught.
Better still, at Tulane University in New Orleans the sweetest scientific discovery was made by Dr. Arman Sadeghpour: a key substance in chocolate -- the alkaloid theobromine, a naturally-occuring compound found in cacáo & a chief stimulant of the Central Nervous System in humans -- is a caped crusader against tooth decay. When reduced to its pure isolate, theobromine protects teeth & hardens enamel better than fluoride.
Armed with his findings, Sadegpour formulated Theodent.
Makes the act of brushing more, well... desirable. Best of all: harmless if swallowed.

ING
: theobromine, calcium acetate, sodium hydrogen phosphate, purified water, hydrated silica, sorbitol, xylitol, glycerin, sodium lauroyl sarcosinate, xanthan gum, titanium dioxide, citric acid, spearmint oil, sodium benzoate, stevia extract, sodium bicarbonate, vanilla
Reviewed February 13, 2012