Impact
Every once in a blue moon a bar so fertile & strikingly original comes around to boggle the T-buds ('T' for Taste). That fulfillment of the eternal desire to be wowed. Every chocolate ever opened starts with such hope.

Spoiler alert: this is not that. At least not quite. But on this Leap Day 2012, an extra bonus awaits those who take the leap of faith.
Appearance 3.9 / 5

| | |
| --- | --- |
| Color: | deep for a Milk Choc (especially 30%); shades of Dark-Milk |
| Surface: | gives good face, "signed" by the artisan himself; the reverse maps the backside of the moon, or a model whose make-up washed off (pock marks, craters, blemishes) |
| Temper: | flashy |
| Snap: | hushed; striated edge walls |
Aroma 6.7 / 10
pretty waxen -> yields to toothpicks sticking it to chunks on the cheese platter
Mouthfeel 12 / 15
| | |
| --- | --- |
| Texture: | stiffly granulated |
| Melt: | congeals admirably as milk & cocoa fats coat + suspend sugar particles |
Flavor 43.8 / 50
bland beginnings on wax -> wincing dried milk powder -> turns a softer corner as toasted vanilla rolls into caramel (bar on...) -> candy corn -> brown sugar -> cocoa lined with fruit trace (pitanga) -> wraps a
Milk Choc
with Almonds (very nice save)
Quality 15.6 / 20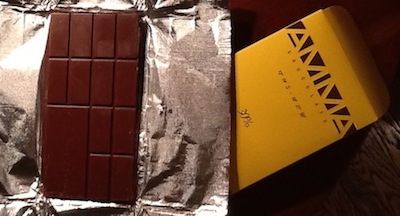 A reducing
Milk Chocolate
bar; meaning, it breaks down into its progressively simpler constituent parts over the course of the melt until it pulls off a recombinant gestalt by the end so that, like its
45%
sib, this finishes well; exceedingly well.
The sequence running from objectionable... to inoffensive.... then inviting & welcome as the troubles lose themselves in each other.
All the same it took that long eventually to resolve the integration issues, the substandard milk powder, & the spotty technique which this sturdy cacáo overcomes.
Amma
then leaves the task of finishing up the job to the consumer... by curing it for good in the oral chamber.
The reward is worth the work.
Reviewed February 29, 2012