Impact
A bar that takes minority rights to the
n
th
degree as 7% coffee runs roughshod over the will of two-thirds majority: the 66%
cacáo
-content.
Tantamount to reverse discrimination. Someone please call the Justice Dept to report a hate crime.
Appearance 3.9 / 5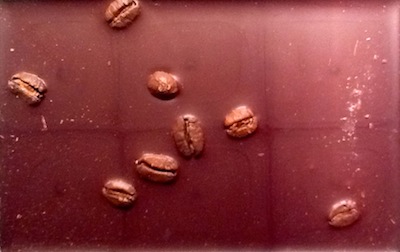 8-r-ade... take just eight beans to destruction
| | |
| --- | --- |
| Color: | ink jet brown |
| Surface: | studly; coffee beans hastily & unevenly distibuted |
| Temper: | waxen |
| Snap: | thin-voiced |
Aroma 8 / 10
mead up in the café for a little kaffeeklatsch: coffee cherries-bearing their own warm resident notes of honey & caramel in a neutral seedbed of cocoa -> further imbalanced by rubber
Mouthfeel 9.8 / 15
| | |
| --- | --- |
| Texture: | tough cream (the couverture) / tender crush (of the café) |
| Melt: | soggy beans |
Flavor 35.3 / 50
fast breaking coffee acids -- sharp & smart... deepens to espresso strength as the whole beans crack around the teeth & darken to overtake the onrushing sweet -> bland coffee-sugar wash -> get set to nit-pick coffee grits out of the dental pockets for days
Quality 11.6 / 20
Haphazard construction... from the look of the coffee beans just cast & thrown into the mold, to the overbearing
Flavor Profile
. None of the ambidextrous finesse of
Coppeneur's former greatness
; & in particular the
Jamaica Blue Mt
. The climb up to the summit may have been slow but the fall down the mountain is precipitous. Coppeneur taking the plunge... from its pinnacle peaks.
Chocolate inconsequential & helpless. Coffee communicates poorly with it, which just feels lost in the brew despite comprising 66% of the mix.
Cacáo
feebly tries to stand its ground but gets steamrolled in the process -- literally, as soggy coffee beans, probably pre-steamed for "their roasting", annihilate the cocoa.
And 7% coffee? If 3% vanilla often proves overwhelming, what does Coppeneur expect from more than twice that amount for a volatile that, gram for gram, is arguably stronger? It violates a fundamental of chocolate physics / alchemy: cacáo may be potent but intensely fragile.
So, instead, sugar becomes the greatest modulator & lone barrier to having it black (sugar, no cream please).
A coffee bar in disguise to hoodwink the kids.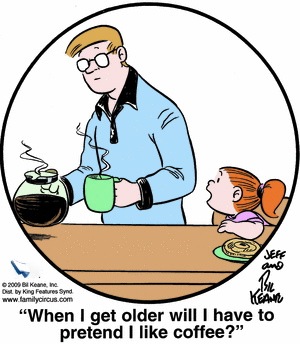 INGREDIENTS:
cocoa mass, sugar, cocoa butter, coffee, lecithin
Reviewed May 15, 2012