Impact
The cuddly / puddly Edward Smith "Eki" Fatu -- aka "The Samoan Bulldozer" or by his ring name "Umaga" -- was part of the Wild Samoan clan of WWE wrestlers. He tag teamed with The Island Boyz, the Samoan Gangstas, & 3-Minute Warning. All of which should provide a flavor of this guy & these cocoa nuts.

Umaga's moves included the Super Samoan Drop & Samoan Wrecking Ball, among others.

Why is he brought up here? To alert everybody that a handful of these raw, un-roasted nuggets are tantamount to inviting Umaga into your mouth.
Appearance 4 / 5
quite variable in size (a sign of diverse heterogeneity but a manufacturing challenge) in the medium-small range & mostly semi-flats
| | |
| --- | --- |
| Color: | husks live up to the namesake; generally darker seeds with a few blonds between (& well under 5% slaty) |
| Surface: | very clean |
| Temper: | some easy-to-peel with a couple real stubborn ones |
| Snap: | n/a |
Aroma 9 / 10
phenomenal brandy: the reducing sugars in the cacáo pulp distill a butterscotch rum (seemingly with sweet sugar cane residuals) -> pear in the guise of Poire Williams -> but also a shellac / turpentine / paint thinner.
singularly unusual
Mouthfeel 12.9 / 15
| | |
| --- | --- |
| Texture: | soft, almost moist |
| Melt: | chewy (great fat) |
Flavor 42.4 / 50
funhouse candy flavors lead the procession... pink Bubble-Yum
®
flavored in this case with banana & artificial grape -> swirls up some cotton candy floating amidst maple syrup & hopping beer suds (the alcohol from the Aroma or the
Wild Samoan Splash
, a forward jump from a raised turnbuckle of the ring that lands, stomach-first, across a paddling victim lying on the ground below) -> settles a bit with a side o' chips (batata & taro,
very Fijian
) -> bitters slam across the pal (for palate) in a
Samoan Spike
(a hi-speed thump thrust to the throat) -> scraping sea coral (ouch) -> recovers back to the bubblicious without that bitterness ever leaving hold
Quality 15.2 / 20
Flavor re-confirms what the size of the differing
seeds
indicate -- heterogeneity. It also points to a probable uneven
ferment
caused by seeds pulled from several properties on
Samoa
.
Certainly has the fruit; & some bitter too -- bordering harshdown, in fact.
Could be both instructive & profitable to segment the various types if possible; weed out some of the objectionable varieties in favor of those with more rewarding traits, then subject them to rigorous fermentation protocols.
As is, the
fruit profile
, while evident, tastes mild enough, precious little acidity, that would likely perish for the most part during processing. Less so the bitterness, however, which seems to have real staying power. A good bitter though, a healing bitter like kava-kava. Still, it would necessitate measured sugar levels, a judicious roast & considerable conching which, again, would imperil the fruited volatiles.
Finally, the seed lot here presents no-to-lo CQ (or
C
ocoa
Q
uotient); practically zilch in the way of core chocolate flavor. Not even a latent whiff.
Quite the challenge, for sure, but one which the Samoans appear prepared for.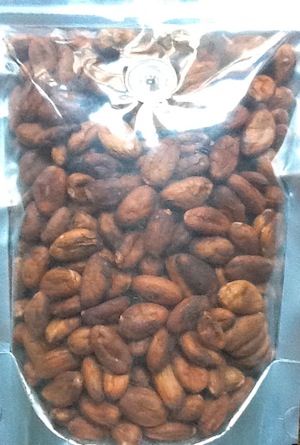 Samoa Gold... Getting Set for Int'l Shipment
INGREDIENTS:
whole cocoa beans
Reviewed June 28, 2012