Impact
A bar loaded with symbolism (& then some).
Basil has often been used in the preparation of Christian holy water & sometimes placed in the hands of the dead to ensure a safe journey in the afterlife. The ancients -- from Egypt, Greece & India -- practiced similar rituals with it.
Boccaccio's
Decameron
tells of Lisabetta in 'Novella V' whose slain lover appears to her in a dream from whence she disinters his head & sets it in a pot of basil that she waters daily with her tears.
As for roses... they also can be found at funerals for they connote love & blood throughout many cultures & eras.
And now
cacáo
: the
Mayans
of course drank their chocolate & they too placed it in tombs since cacáo had deep links with the underworld thru which all souls ventured. Morover, it represented blood in their cosmology; they frequently added annato to highlight its red hues.
At an intuitive, if not a conscious level,
Josef Zotter
understands these connections. Hence this
Rose und Basilikum
hand-scooped Chocolate.... which is everything save for D.O.A.
Pot of Basil (by William Holman Hunt; 1886; Laing Art Gallery, Newcastle upon Tyne)
| | |
| --- | --- |
| Color: | rosewood |
| Surface: | rippling mold |
| Temper: | soft shimmer |
| Snap: | adhesive coming unglued |
Aroma 8.3 / 10
reserved & regal: golden roasted hazelnuts & lightly toasted wafers -> no sign of the primes (rose & basil) except later on... basil's eucalyptus / clove-like component (the chemical compound eugenol) &, more compatibly, its hay affect (no surprise there since dried basil often resembles coumarin) + rose's monoterpene alcohol geraniol -> jams & jellies on the break wall
Mouthfeel 11.6 / 15
| | |
| --- | --- |
| Texture: | mealy grain |
| Melt: | on the rapid side |
Flavor 47.7 / 50
syrup sweet (raspberry-rose attar) -> medicinal mint / eucalyptus... rides the rail like this for a lifetime... until cream-soaked wafers shroud it -> clear basil rises from the garden before a subtle rose florescence re-emerges -- now shadowed in basil's licorice-like component -- then envelopes the senses toward an after-lingering sandalwood / frankincense (stunning)
Quality 17.8 / 20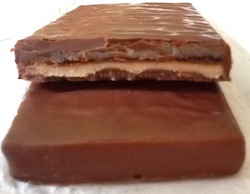 A paradox in triplex construction.
Lively yet serene in its overall seduction.
For starters, that front lip of fruit syrup creates a nit of false advertising, if only momentarily. Then a lot goes on even as very little (seemingly) happens (deceptive for sure). Marzipan, for instance, serves more for Textural FXs than imparting any forward taste. Many other ingredients are likewise submerged by the dominant flavors, but into one very gastronomic union, resplendent with indirect perfumes.
Irrespective of the myriad of elements, which some may find objectionable (glucose & whey heading the list), it's all quite beautiful & unusual, gorgeous & lovely; rose especially earns its accolades.
Hauntingly sublime.
INGREDIENTS:
raw cane sugar,
cocoa butter
, marzipan (almonds / raw cane sugar / invert sugar), full cream milk powder, cocoa mass, fructose-glucose, apple brandy, lemon, sour cherry & raspberry concentrates, whey, rose water & petals, apple pectin, salt, lecithin, vanilla, cinnamon, basil oil
Reviewed June 27, 2012