Impact
Most caffeine junkies (re: the gen'l population at large) usually wake up to a cup o' joe, then have another around 10:15AM, plus a few more before the day is over.
Mānoa releases this transitional bar to aid those making the move from the coffee to the 'chocolate break'.
It's about time.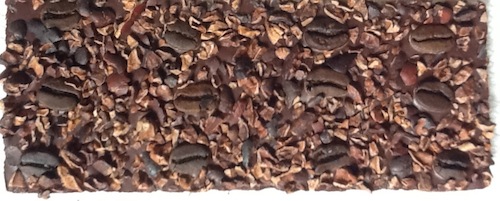 The Meth Twins: methylxanthines caffeine & theobromine
| | |
| --- | --- |
| Color: | polybrown |
| Surface: | a stud |
| Temper: | 'roid rage |
| Snap: | cacophony |
Aroma 8.5 / 10
head-butting coffee & almost nothing but... until it blows out mocha
Mouthfeel 12.9 / 15
| | |
| --- | --- |
| Texture: | pandemonium in a... |
| Melt: | ... a wild granola riot |
Flavor 45.4 / 50
in concert with the Texture, picks up on granola (honeyed oats) -> coffee grinds into dairy for some caffeine-boosted cream poured on more cereal (malted this time around) -> back fruit flush (blackberry) -> java mocha -> after-taste of phyto-green coffee bean
Quality 17.2 / 20
Curious formulation.
Mānoa taps local resources in Hawai'i for renowned Kona coffee &
cocoa nibs
only to go off-island for
janky Ecuador beans
. Though the Ecuadorian generates those blackberry FXs,
Hawaiian cacáo
-- with the caveat 'properly crafted' -- would bring a whole fruit basket to the table.
Could also stand about an additional 5% chocolate content for greater balance, more punch & deeper flavor since the refined white stuff lightens the load (which, granted, has some benefits) to bump this up toward surface level.
Great pitch nonetheless, even if twee sweet, but what the heck. The sugar as much as the cocoa pushes the café back some from dominating the whole assembly.
As is, whether for breakfast, lunch or dinner, this bar fulfills the RDA (Recommended Daily Addiction).
Reviewed October 10, 2012