Impact
A sexed update on Descartes-as-some-pinup-model: Christine Eats therefore She Swallows…. no, not like that, horny younglings… but of the songbird, naturally.
This girl's got pipes for chocolate liquor.
*********************
The following summarizes ChristinEats' Prohibition Truffle Bars that fill the slot between a bar & a bombone (the shape of the former & usually the taste of the latter). In the Flavor Section below, individual bars are listed with a brief synopsis & rating of each. The general rating (at the upper right) reflects their composite average.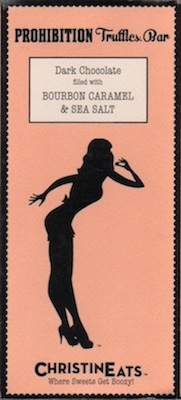 | | |
| --- | --- |
| Color: | true to their respective categories |
| Surface: | cosmetician-grade moulds with raised pillows (some concavity on the airside due to shrinkage & setting temperature) |
| Temper: | paparazzi-level mega-wattage |
| Snap: | easy |
Aroma 8.3 / 10
generally transparent
Mouthfeel 10.6 / 15
| | |
| --- | --- |
| Texture: | grain meal |
| Melt: | tottering |
Flavor 39 / 50
Dark Chocolate with Bourbon Caramel & Sea Salt
- a bit heavy on the corn syrup (verging on pecan pie level), ditto the overall sugar level (
Guittard's bulwark 61%
hardly the darkest
Dark
around), & texture gums up the works some but the
Maker's Mark Bourbon
& the Gueranda gray sea salt, both well-measured & tailored, raise this complex (of grass, spice, sap) to a weapon of mass seduction whose victims will both lick AND swallow it up;
A formidable All-Americana stack (the veritable staples of the ancients -- corn &
cacáo
distilled into Bourbon & Chocolate respectively with a lift from another New World wonder -- vanilla)
The most proficient & fluent of the set
8.29
Milk Chocolate with Peanut Butter & Vanilla Vodka
-- peanut skins & potatoes on the nose / peanuts & mashed potatoes on the tongue; very grainy gruel which contributes to a beveled surface on the molding (ahhh, got it, the distillery mash experiences a collapse); vodka basically shows up vaporware as any room hosting an AA meeting that heals its members by trading one addiction for another in replacing alcohol with sugar
A mishap worse than spilt milk: a meager pour
6.90
White Chocolate Limoncello Ganache
-- a tropical breeze scent with as much grapefruit & orange as lemon drifts up into the North Atlantic for a frozen creamsicle; if that fails to entice, the idealized mold further tantalizes… just spot-on perfect with an icy emerald (lemon emerald) hue buffed with high shine
some grain & gum to the Texture & ache to the tooth (hyper sweet)
the alcohol & added lemons cut thru but the
White
base, despite its own inborn lemon-analagues, effectively shunts & obfuscates the marriage in a cloudy Ouzo FX
reformulation in order -- scale back the sugar; more forward on the liquor (
cocoa butter
furnishes overhead to play with alcoholic heat); & upgrade the couverture
promising nonetheless
7.78
Quality 14.5 / 20
A hiccup or two but no doubt Christine will be able to twerk it all out.

Reviewed November 21, 2013