Impact
A bar with all the charming demeanor of a
Central America
junta leader. Seriously, they can be quite cajoling. And tough as nails at their core.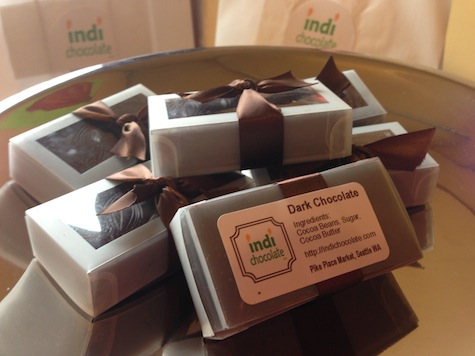 | | |
| --- | --- |
| Color: | straight on darth-brown |
| Surface: | oh dear, how precious, 10 thin tiles that stack up to a palm-size serving or a little over an ounce, maybe making this one of the more expensive chocolates on Earth (congrats) |
| Temper: | burnished |
| Snap: | ice-breaker |
Aroma 6.9 / 10
pigskin hung out to dry fat on its back against some flat tar
chicory & carob complete the fold
Mouthfeel 12.7 / 15
| | |
| --- | --- |
| Texture: | true |
| Melt: | medium-slow |
Flavor 39.4 / 50
sweet cocoa intermixed with latex -> sweeter still until tar 'n nicotine swamp over (the former primarily of the asphalt variety) -> bitter brew -> black tea -> offset by a black mission fig… only briefly, as black olive runs it out
Quality 14.6 / 20
Crafted by Erin Andrews, one of the subjects in Bob Ridgley's
Bean-to-Bar
film. She ventures to an under-represented origin --
Honduras
, specifically the northwest section -- & cultivates direct relations with growers there.
A challenger destination, Honduras strays far nowadays from its historical roots as a hallowed ground for chocolate culture. It mainly grows humble stock.
This bar tells that tale. Dimensionally plain, along a limited continuum but at a depth that makes it worthwhile. Additional processing would round some of the jags of the tannic force. All of them clean, however; even the bitter spikes, quite manageable / tolerable, showing more mineral than medicinal.
For those rushing out the door in a bolt, skipping their morning espresso shot… just down a couple of these portable tiles on the run for a suitable substitute.
INGREDIENTS:
cocoa mass, sugar,
cocoa butter
Reviewed January 14 , 2014