Seeds
Dark w/ Raisins
Dark w/ Sesame
Dark w/ Peanuts
Green Vanilla
String Flower... +
by
The Tea & Chocolate Place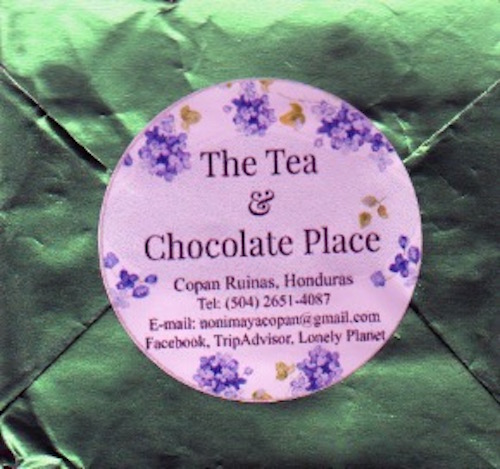 Impact
REDUX REVIEW:
Below are 2 separate rounds of
The Tea & Chocolate Place
bars -- one from Summer 2016 & the second Winter 2016
*********************************
Cultivated & crafted in the shadows of the ruins constituting the ancient Mayan city called Copán. Shades perhaps of the very essence that founding Emperor K'inch Yax K'uk' Mo' imbibed in his time.
He the focal point on the Dazzler Vase (below), arguably the most famed vessel from all of Meoamerica, recovered within the royal Margarita Tomb in Copán,
Honduras
. It sports a goggle-eyed figure peering out the window of a talud-&-tablero style structure.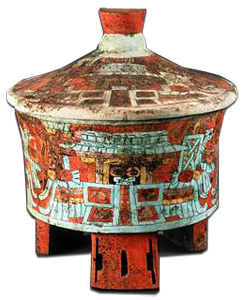 Mayanist David Stuart views this figure as the spirit of K'uk' Mo'. A well-preserved layer of
cacáo
residue lines the bottom of the vase, retaining the hue of
Dark
chocolate, the remains of a possible ritual draft. The intent is that cacáo would sustain the departed on their long journey thru the underworld… the finest offering made even more sacred by its escorting them.
These offerings here from
The Tea & Chocolate Place
are sure to bring a smile to his face that descendants proudly carry on the seminal tradition which got the world rocking on chocolate.
A small cadre of local growers engaging in forest regeneration by planting non-grafted seedlings from the most authentic cacáo native to the area &/or adapted, including some possible relics of ancient strains.
2 main types / cultivars: a) red pods with pink-to-purple seeds; & b) yellow pods, quite warty with deep ridges. Set in a forest garden among vanilla, sapote, piper (pepper) relatives, chile, annatto, + more.
And moreover, with weather anomalies, migratory tensions & economic distress, a small global benefit, consider it a down payment, for everyone on the planet if they succeed.
| | |
| --- | --- |
| Color: | blonds |
| Surface: | look the other way |
| Temper: | matte |
| Snap: | apologetic |
Aroma 7.3 / 10
tropical hardware in a swampland
nuts 'n bolts (the former the edible kind; the latter the screw type)
polymers from gorilla glue
stewed fruit
greasy brown sugar
generalized into junk yard kitchen
Mouthfeel 12.1 / 15
| | |
| --- | --- |
| Texture: | untempered |
| Melt: | a flash... that lasts |
Flavor 44.6 / 50
SUMMER 2016
Whole Seeds
bites in engine grease, then the cocoa drive chain kicks it with an assist from brown-sugared chocolate -> roasted char to an espresso level -> runs out on Firestone
®
tires
Dark Chocolate with Raisins
dry cocoa milk 'n malt -> raisin furnishes more chew than flavor which indicates good potency to the cocoa until a floral grape drops the drape on this bar
Dark Chocolate with Sesame
chocolate popcorn (including the soft crunch of true sesame seeds from the first draft to the last waft) -> deepens into the oily golden pericarp -> glucose
Dark Chocolate with Peanuts
no
Reese's
®
butter cup here but chocolate wedged with (seemingly) powdered peanuts (not actually the case however); very rustic, very elemental, very disaggregated
WINTER 2016
Green Vanilla
75% cacá-contnet
vanilla power without overwhelming though it dominates the cocoa-sugar base thanks to a proprietary-level vanilla less perfumed / more subtle than either the more pronounced Madagascan bourbon vanilla or even the Tahitian variety (both of the latter containing higher quants of intrinsic vanillin)
Tremendous persistency well after the melt thru & the matter of fact
String Flower + Green Vanilla
75% cacá-contnet
what wafts meal, maple & melons over the airways drops in a veil of green vanilla on sugar-spiced cocoa tannins with robust coffee back -> rear tobacco-licorice impressions
Piper sanctum
the pepper related to
nigrum
indigenous to
Central America
base smoked-cocoa with wisps of
sanctum
... truly interior / subliminal rather than paraliminal
Hot Tortillas
flat tortilla-shaped rounds of chocolate & chili pepper, all sourced locally in Copán, Guatemala
fiery but gringo-friendly as the cocoa butter component to this 75% cacáo-content assembly balms the flaming pepper into tingling heat as opposed to any scorched Earth searing
Quality 17 / 20
Home-ground
Most will consider the
Seeds
unusual, rare & universally tasty. Hand-roasted over a clay griddle. Plans call for a drum roaster.
The bars prove deceptively involved. Admittedly a plain Dark would be revealing (UPDATE: one is forthcoming).
All sums up to student grade (re: intensely passionate) & skilled too (yeah, go on, try peeling cacáo seeds & keeping them whole without fragmenting into
Nibs
).
Genuine.
INGREDIENTS:
75% cocoa mass /
cocoa butter
, 25% brown sugar + respective add-ins
Reviewed June 16, 2016
Revised December 14, 2016