Impact
Dear Vosges,
Thank you for yet another bar with such an alluring name. All your chocolate has that enthralling
je ne sais quoi
... you're so amazing... how you make Brach's & Hershey's taste like, well, ya know,
Haute Chocolature
. You must secretly be that dominatrix bent on 'teaching' consumers the ropes of choco-masochism thru 'whispers of the
Aztecs'
on sultry human sacrifice, while all the while teasing with laughter of
"Money to burn? This 'Red Fire' bar lights the match"
... oooh la la.
Air-kisses,
the C-spot
™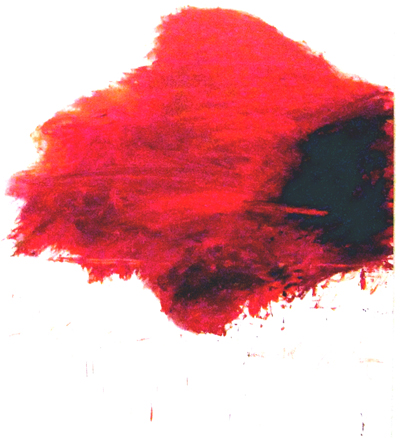 The Fire That Consumes All Before It, Cy Twombly (1978)
| | |
| --- | --- |
| Color: | coming a lump of coal |
| Surface: | |
| Temper: | waxed blowjob #11 |
| Snap: | limp; breaks-up crossbow orthogonal |
Aroma 4.8 / 10
BMX rubber inner-tube from recycled latex pantyhose; cinnamon, paraffin, & synthetic cherry; yabba dabba doo flintstone on the rub down; peppers air out after 30 minutes breathing
Mouthfeel 6.8 / 15
| | |
| --- | --- |
| Texture: | dry grit & grease |
| Melt: | breaks up weirdly, unevenly into 2 stages: a) dragging sclerotic balls then b) quick release |
Flavor 21.9 / 50
vanilla tar pit -> stick in the mud turns into sandy cinnamon suspension -> cocoa powder -> soy wax -> pepper sting w/out pepper flavor (cat o' 9 on the tongue), driving up hope that similar to quitting smoking, maybe everything regains its flavor as taste buds paved beneath tar spring back to life... alas, just creates more havoc -> burning bark -> vacant cocoa pivots on cinnamon dust to a long burnout
Quality 7.3 / 20
Another fine Vosges production: spices covering for stale, bulk cocoa further degraded thru crude processing. Easter bunny candy goin' Aztec on your leaden ass with clichés such as 'I'm your goddess Xochiquetzal' (a sort of Roman Venus of fire come to light under your seat of desire, to inspire all to which you aspire & take you higher on that high-wire of a 1,000 voice orgasmic choir... ba ba ba, The Love Baba).

Hyped by a giggling gush of boutique clerks as the "peak" of the "Vosges experience", like an uncoordinated dominatrix who just learned to handle a whip this morning & wants to try out her "skills" on a "client" the same afternoon.

ING: cocoa mass, sugar, cocoa butter, soy lecithin, vanilla, ancho & chipotle chili peppers, cinnamon