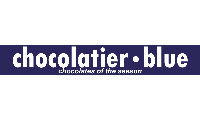 Impact
"What's in a name?" fair Juliet mused, "That which we call a rose would by any other name smell just as sweet. So Romeo would, were he not Romeo called, retain that dear perfection which he ownes without that title."

Electric Blue... can be a name, a color, a feeling, a truth, a ray, & now... a flavor.

"It is nor hand, nor foot, nor arm, nor face" but on the tongue it does leave a taste: better than green but not quite juicy red hot, let alone sweet golden brown ala sugar dates & choc-o-lot.
Presentation 6 / 5
corporate box in navy blue wants to sail thru the high seas but inside... precisely molded & engineered pieces of varying shapes from seemingly an auto-body paint shop... top showroom quality; extra bonus pt
Aromas 2.7 / 5
direct scent of their colors (& very little chocolate)
Textures/Melt 9.2 / 10
| | |
| --- | --- |
| Shells: | rather consistent toward medium-thin |
| Centers: | variable... from plush pillows to firmly structured |
Flavor 37.8 / 50
aroma pre-figures taste... good flavor-fronts (sometimes proving uncontainable) but it's the super fresh butter / cream which carries much of the weight & to a lesser degree taste (often the last impression); general chocolate-amnesia (curious given the couverture) resulting in off-balanced portfolio w/ occasional disequilibrium
Quality 24.4 / 30
Patisserie-quality / restaurant dessert-fare employing A-1 components (mainly organic) to suboptimal effect. Little showcasing of the much-heralded
Amedei
couverture - underserving it in fact – especially compared to
William Curley's
powerful deployments of it. While the cream ganaches in the collection are promising (one of them fully-realized: the skilled deliverance in
Palet d'Or
; & another [
Hazelnut
] the crowning achievements without any considerable body of work to rest it on), the dairy-free water-based Vegan-line is problematic, missing the alchemy of
Damian Allsop's
trailblazing experiments in this format. All in all, shades of
Oriol Balaguer
- a lot of pedigree (Chris Blue came thru the Charlie Trotter network) trying to upshift into chocolate.
Selections
Palet d'Or
- early rising cocoa gives way to noon-ripe
Toscano
fruits only minimally ganache'd; judicious use / non-interference; excellent
Pistachio
- not about chocolate but all about full-fat velvet cream layer making for a pistachio mousse of seamless integration
Macadamia
-
White Choc
shell over unctuous mac butter on the verge of roasted oil
Hazelnut
- thick butter in a benchmark Milk where the shell is the center & vice-versa, w/ a salt-hit at mid-palate that tilts the progression into another dimension – neither Milk Choc, hazelnut, or combo of the 2 (gianduja) – but almost banana flambé
Lime
- bright citic jolt quickly balmed in cream, then gradually shadowed by a late draw of chocolate tannins; good evolution
Raspberry
- best ratios in the set; a balanced duet between fruits (berry & cacáo) of effortless, easy-going complements that stack vertically against a deft contrast of evenly horizontal dispersion in the texture
Carmel
- instant meltaway texture crosscut by butterscotch-twister flavor for 360 sensory geometry
Passion Fruit Caramel
- among the more innovative in the collection; heart-shaped... ahhhh... & a bit of a messy gooey affair but they hook up (mostly on the insistence of passion; caramel dragged along exhibiting little of its butterscotch bravado) & get thru it alright to Blue's signature cream ending
Espresso
- mocha really; teases on the edge of morphing into a wild joker in a vein similar to Blue's
Hazelnut
piece but stays pretty true, grounded in creamed café
Lime (Vegan) - dairy-free water-based ganache; bracing & overpowering w/ too little backup from cacáo; awkward, unhappening, & out-of-character w/ the rest of the line
Apricot (Vegan) - fruit reduction slathers a chocolate w/ no room to breathe
Raspberry (Vegan) - best proportioned of the water-based pieces; though the infusions is overstated, at least cacáo's tannins match well, allowing it space to successfully act on the raspberry