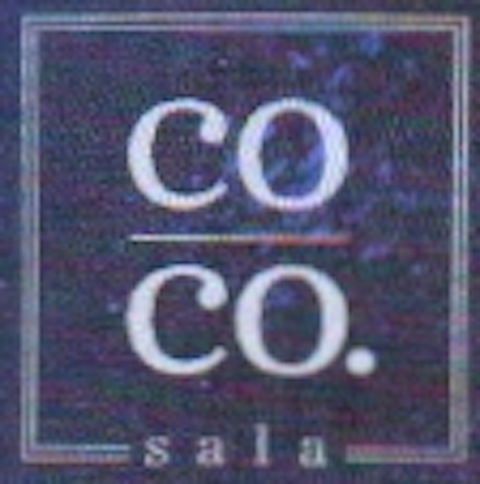 Impact
What does it say about this oft-called "fine chocolate" niche that in the capital of the supposed "richest nation on Earth" (albeit bankrupt & polarized) that a truly fine purveyor of
premium bars
from around the planet --
Biagio's
-- bellied up & closed its doors?
(Well, okay, not quite; the space has since been occupied by a bonbon maker.)
That politics & chocolate don't mix? Throughout
history
cacáo has usually had a seat at the negotiating tables of summitry.
That power brokers are uninterested in dirt-poor commodities? Good point; why bother when they can invade oil-rich fiefdoms.
That DC is just a candy-ass town of Easter egg hunts & jelly bean rolls filled with a tasteless mob, in a feeding orgy over the taxpayers' receipts, whose collective thalamus -- the first stop for many of the stimuli that come into the brain via the eyes, ears, tongue & skin -- has been severed?
Ahhh, the free lunch program, Washington-style, which the country will end up paying for... with the next generation's entire lives.
If any of the above, then bet this box got its start making chocolate-covered pretzels or potato chips catering to local preferences.
Presentation 4.4 / 5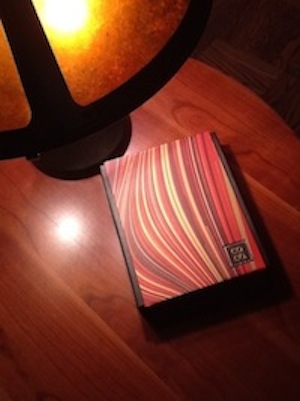 Wow to the box & brochure for the visually-literate -- a "cocoa-table book" with magnetic closure... enough to expect gold jewels or at least silk undies from this thing
Vintage graphics with countersunk logo; the internal packing -- standard white stuff... really? after dropping the dime on the box & insert, not even brown cushion?
Plastic sheet with cool logo is on top ... what, no tea paper??
Inside, machine-molded pieces (tight fit & finish) cradled in plastic trays...nestled neat in a row... again, pretty standard for upmarket
No handwork in evidence...lots of airbrush & sugar stencils
Square pieces perfect for refrigerator magnets
The enclosure reads:
"Each exquisite bite is a story -- some dark, some sweet -- a story that begins with passion & ends in pleasure"
. Oy, this kind of script deserves a whole section on
The List of Banned Words
except it rings pretty true-to-trite.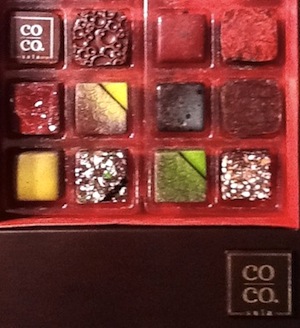 Aromas 3.2 / 5
knobbly nosed & solid as a bookcase made out of cardboard, pencil shavings, dust, peanuts & hot cocoa mix
Textures/Melt 6.7 / 10
| | |
| --- | --- |
| Shells: | rigid boxes but too little body & snap: bite into the mass & the shell yields… |
| Centers: | … a very Godiva-esque fill (sterile fondants / no sex in the ganche); 1 dimensional choc with dry mouth |
Flavor 36.1 / 50
some good, clean flavorings that taste natural held back by dull, unrewarding coverture (mediocre quality of no depth) & harsh sweet edges (Karo™ dark syrup in the ganache?)
Quality 19.6 / 30
High craft embedded in the design: box, insert, layout.
Selections
| | |
| --- | --- |
| Couverture: | gives last year's leftover chocolate Santa a run for his money |
72%
-- CoCo Sala's version of a
Palet d'Or
comes on strong with a strawberry-like patina on the tongue underscored by a dried-cocoa plank (Dutched &/or cocoa-powder boosted), the 2 closely joined together; very impressionist, even dazzling, & inexplicably works in an unexpected way
Raspberry
- little if any fruit reduction; just tart 'n tang in-the-face, up-the-nose, down-the-throat
Rosemary Caramel
-- every element very identifiable, including the unremarkable
Dark
base except it solders them all together into a sort of sweet herbal paté; outstanding, such as it is
Pistachio Kulfi
-- traditional dairy dessert in Indian; light all over (color & flavor despite the fresh zest) yet denser than cream & incredibly melded; yeah, the chocolateers at Sala may be English-speaking but this carries their Indian passports
Linzer
- faithful rendition of that Austrian classic, complete with lattice-top mold, but with a twist as re-told here in clearly expressed fruit berry gelé & crumbly pastry dough surrounded by
Dark choc
; neo-classicism on display
Co Cojito
- highballing lime against a mint-chocolate lip; a full frontal assault
Java
- another direct & evident piece; coffee cupped in a firm chocolate casing to extend its length ever further
Earl Grey
- sweet 'n slight (where's the bergamot?)
PB&J
– really? IGA brand, right?; hyper-sweet peanut butter, even the jelly goes granular from all the sugar… all this great packaging for a nut-fluff
Cinnamon Toffee
: uh, where's the toffee, dude? ya know, 'crunch crunch'?; nice mild cinnamon burn well-diffused throughout blah-industrial ganache of inconsequential toffee crunch or flavor
Cherry Yogurt
- slimy blend of off-sour yogurt & granular jelly
Finally, no idea what the gooey yellow-topped ish is... maybe Salvador Dali's balls tripping in choc-snot.... F his watch melting... palates will do the same